Ship for Southeast Asian and Japanese Youth Programme (SSEAYP)

Start Date         : 23 October 2018, 12:00 AM
End Date         : 13 December 2018, 12:00 AM
Total Sessions       : 1 Sessions
In its 45th year, SSYEAP brings together more than 300 youths from ASEAN countries and Japan.
[APPLICATIONS FOR 2018 HAVE CLOSED]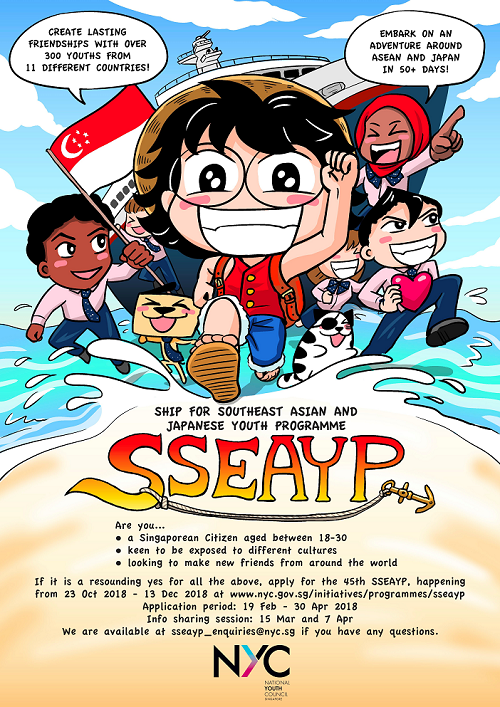 Are you...
● a Singaporean Citizen aged between 18-30?
● keen to be exposed to different cultures?
● looking to make new friends from around the world?

If it's a resounding yes for all of the above, apply for the 45th SSEAYP today! To find out more, do join us at the SSEAYP Sharing Session on 15 March and 7 April 2018 here: http://bit.ly/sharingrsvp or drop an email at sseayp_enquiries@nyc.sg if you have any enquiries.
Submit your application form to the National Youth Council at Nurul_Russyiedah_Sani@nyc.gov.sg (Attn: Ms Nurul Russyiedah Sani, International Affairs)
====
Organised by the Cabinet Office of Japan and supported by the governments of Southeast Asia, SSEAYP has benefited over 1,000 Singaporean youths since 1974. Through SSEAYP, participating youths have the opportunity for international exposure and leadership development as they play a significant role as youth ambassadors for Singapore. The National Youth Council (NYC), Singapore's national co-ordinating body for youth affairs, oversees the programme.
The journey promises participants with vibrant discussions on social and youth matters, eye-opening cultural exchanges and participation in sports, recreational and club activities. At each port of call, participants can look forward to interacting with the local youths, pay courtesy calls on dignitaries, visit local institutions, get involved in community service and experience a unique home stay programme.
Sailing dates*
23 Oct 2018 - 13 Dec 2018
Ports-of-call*
Brunei, Philippines, Thailand, Vietnam and Japan
[Applications have closed]
Get on board and apply to be part of 45th SSEAYP! Click on the links below to find out more
| | |
| --- | --- |
| Positions open for nominations/ applications | Closing date for nominations/ applications |
| 1. 45th SSEAYP National Leader | 31 Mar 2018, 6.00pm |
| 2. 45th SSEAYP Participating Youth | 30 Apr 2018, 6.00pm |
*Subject to change