SINGAPORE YOUTH AWARD 2018
RECIPIENTS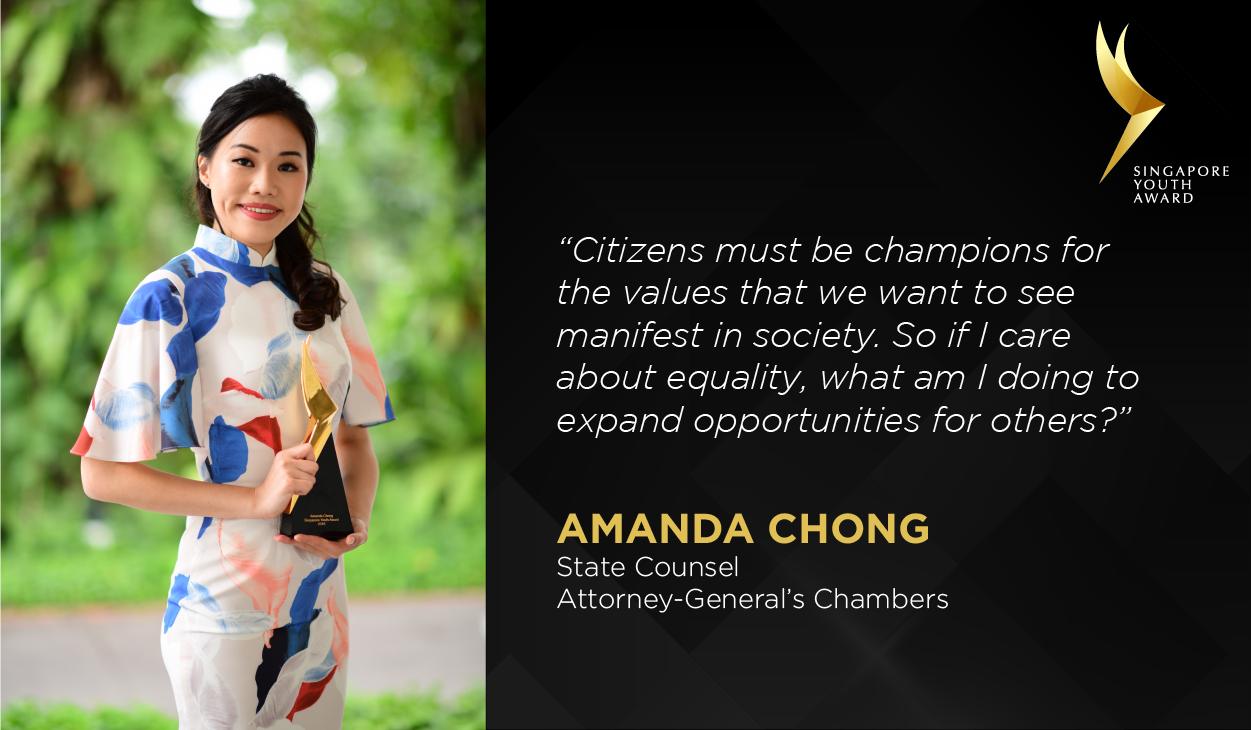 "If we care about advancing equality, the privileged must be invested in expanding opportunities for low-income communities and committed to walking alongside them by giving our time, resources and networks."
The multi-faceted Amanda Chong is a lawyer, poet and advocate for underprivileged groups in society. She is recognised as one of Singapore's leading writers. She was shortlisted for the Singapore Literature Prize in 2018 and her poetry is studied in schools worldwide as part of the Cambridge International GCSE syllabus. Amanda uses the power of words as a voice for women's rights, bringing the perspectives of women into public consciousness through her poetry.
Amanda's commitment to driving positive change in society led her to co-found ReadAble, a non-profit organisation. ReadAble conducts weekly English literacy classes for children and migrant women from a low-income neighbourhood in Chinatown, with the hope of increasing social mobility. From its roots in a one-room flat, ReadAble has grown to hold lessons in classrooms in the Resident's Committee Centre where it uses elements of drama, movement and play to draw out a love for reading.
Amanda hopes to empower children with life skills and inspire them to achieve their dreams. With over 60 children from ages 2-15 under their care, ReadAble matches each child with a trained volunteer in weekly classes tailored to each child's learning style. ReadAble volunteers also conduct one-on-one mentorships with families and connect them with community resources. Through ReadAble, Amanda aspires to help these children step out of the poverty cycle by improving their literacy.
Outside of ReadAble, Amanda advocates for social equality in other ways. Through her public-speaking and research, she encourages policymakers to think of social change in terms of building the capacity of the poor, rather than prescribing values to them – breaking down the stereotype that the poor are burdens to the state. Amanda also teaches poetry to domestic workers, in the hope that the narratives of the marginalised may be brought into the centre.
For her outstanding contributions to society as an advocate for social justice and equality through her work in ReadAble and as a writer, Amanda Chong is conferred the Singapore Youth Award 2018.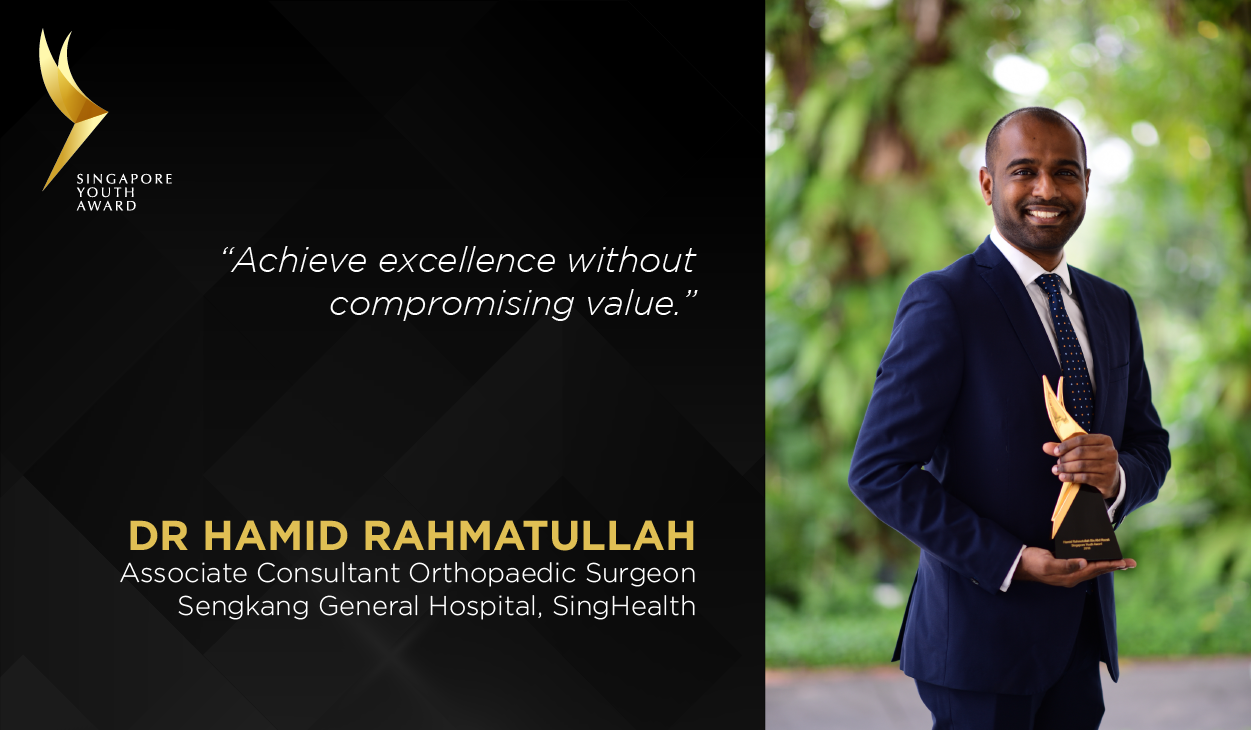 "I hope to achieve my fullest potential without compromising my values. And that too not for myself but so that I may enrich the lives of others."
At only 31 years old, Dr Hamid Razak was selected to be a leader amongst his peers as a Chief Resident in Orthopaedic Surgery in the SingHealth Residency Program. Despite his heavy clinical workload, he takes a keen interest in both clinical as well as translational research and has published close to 60 scientific articles in peer-reviewed journals.
Coming from a humble background, Dr Hamid understands the importance of hard work and supporting the less fortunate. This has been a driving force in his life - to give back to the community. He has been serving in the Active Aging Committee, where he collaborates with community partners to craft programmes that promote and maintain the health and wellness of the elderly. He also serves as a volunteer doctor with HealthServe, a non-governmental organisation providing primary care and specialist medical consults at a lower cost to migrant workers.
Dr Hamid recognises and values that timely guidance can make a significant and positive impact on young people's lives. He is a founding member of the Indian Muslim Professionals (IM.PROF), a group which was set up by like-minded Indian Muslim youth, and aspires to be a relevant organisation for all youths especially in the Indian Muslim community.
Through the organisation, Dr Hamid aspires to attract future leaders into the community, and together, undertake projects that will benefit the larger community. IM.PROF also organises talks in the areas of entrepreneurship and career guidance, where Dr Hamid shares his experiences with youths. Through IM.PROF, Dr Hamid aims to set up a mentoring network that links youths in the Indian Muslim community with mentors who can lead and motivate them to greater heights in their fields of interest.
For his excellence in the field of medicine and his dedication to serving the community, Dr Hamid Razak is conferred the Singapore Youth Award 2018.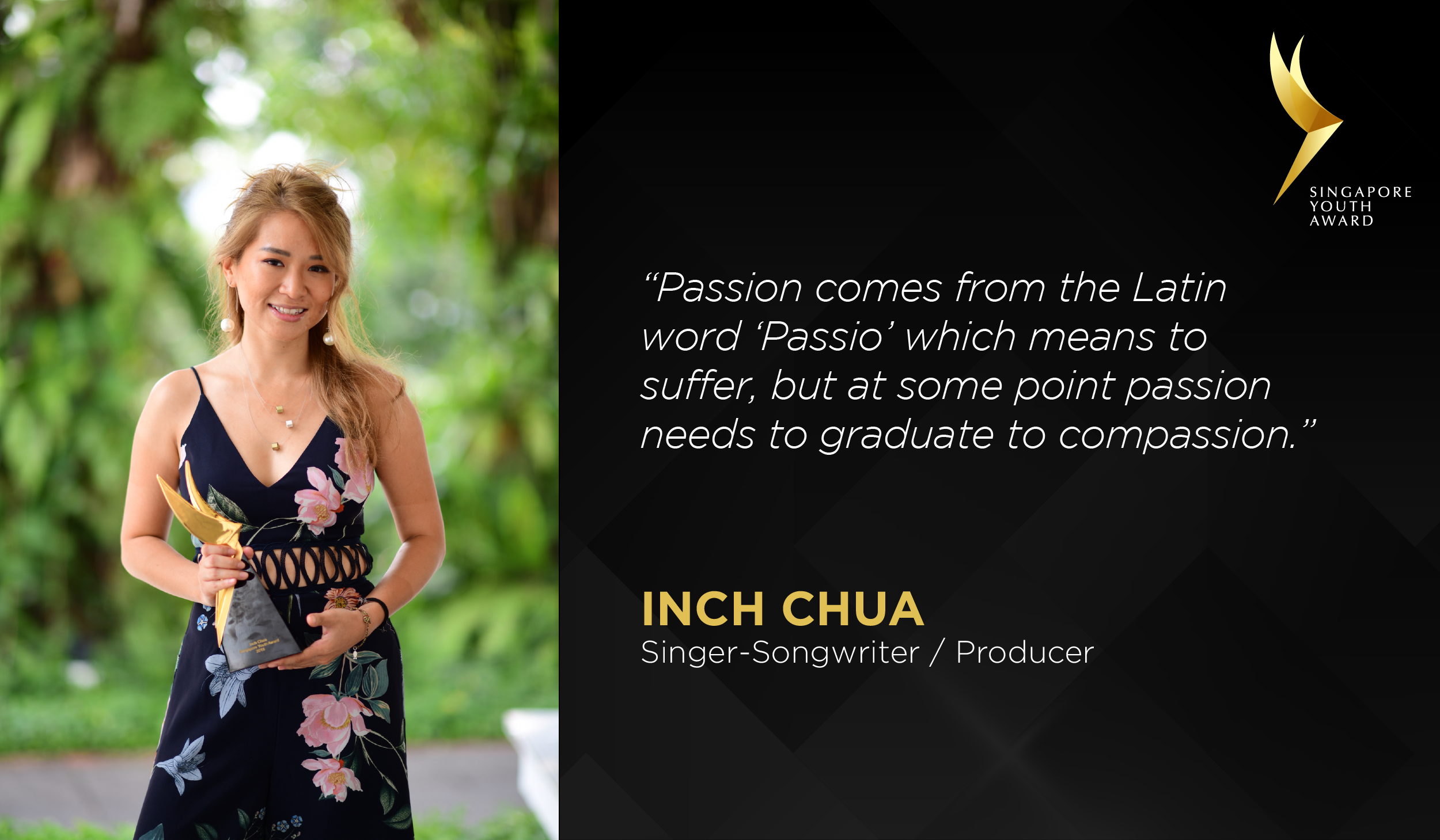 "For me, it's absolutely important to live a purpose-driven life. Purpose, I believe, is the key to navigating the complex, volatile, ambiguous world we face today."
Inch Chua is an instantly recognisable name in Singapore's English contemporary music scene. The passionate singer-songwriter has displayed unflinching determination throughout her career – even moving to the US to pursue her passion when she was just 20 years old. Outside of performing, Inch is an advocate for local music – promoting music that's made in Singapore to younger Singaporeans and giving back to the community through the arts.
As a performer, Inch has performed at major events both locally and overseas. These include events like the Singapore International Festival of the Arts, Singapore F1 Grand Prix, Youth Olympic Games, Beijing MIDI Music Festival, TEDxWomen, Canadian Music Week and many others.
What makes Inch truly stand out from her peers is her passion for using music to touch the lives of people, communities and the environment around her.
Inch co-founded Invasion Singapore to showcase local music to youths, building their interest in Singapore music (and musicians) from a young age. She is also an ambassador for the Industrial & Services Co-Operative Society Ltd (ISCOS) and is part of the Community Action for the Rehabilitation of Ex-Offenders (CARE) Network. In 2016, Inch was a judge for the Yellow Ribbon Song Writing Competition, where she mentors 60 inmates on the art of songwriting.
She was involved in the movement to preserve and appreciate Pulau Ubin with the release of her album "Letters to Ubin" to spread the importance of conserving nature and local wildlife.
For her dedication in pursuing her passion and her commitment in giving back to the community on multiple fronts, Inch Chua is conferred the Singapore Youth Award 2018.
"My motto in life is, "Never give up". Whenever life throws you a curveball, hit it and never stop trying."
When it comes to sports heroes, few are as inspiring as Jason Chee. He is a para-athlete, motivational speaker and an active member of the Tan Tock Seng Hospital (TTSH) Amputee Support Group, where he motivates members with similar limitations and encourages them to live life to the fullest through active lifestyles.
In 2012, Jason's life changed when a naval ship accident led to the amputation of both his legs, his left arm and three fingers. In just six months after his accident, Jason had readjusted to his normal lifestyle and started training to become a para-athlete. Later, a battle with cancer left him blind in one eye. Despite these setbacks, Jason's never-say-die attitude has seen him continue to excel in sports, and at life.
As a para-athlete, Jason's achievements are outstanding. Since 2013, he has medalled 11 times in various competitions, including 5 medals at the ASEAN Para Games. Most recently, Jason took home one gold and one bronze medal at the 2017 ASEAN Para Games. In recognition of Jason's sporting triumphs and for inspiring others as a role model, he was nominated for the 2017 Straits Times Singaporean of the Year Award, and received the 2018 Straits Times Athlete of the Year Award.
Beyond the sporting arena, Jason believes in influencing the wider community in Singapore – sharing his journey through sports and life, so as to motivate both the able-bodied and people with disabilities to continue pursuing their aspirations. Through the TTSH Amputee Support Group, Jason gives motivational support at the Tan Tock Seng Rehabilitation Centre and Ren Ci Nursing Home. Leveraging on his sporting expertise, Jason introduces table tennis as a form of therapy to patients at these group sessions.
For his resilience in the face of adversity and his determination to excel in his aspirations, Jason Chee is conferred the Singapore Youth Award 2018.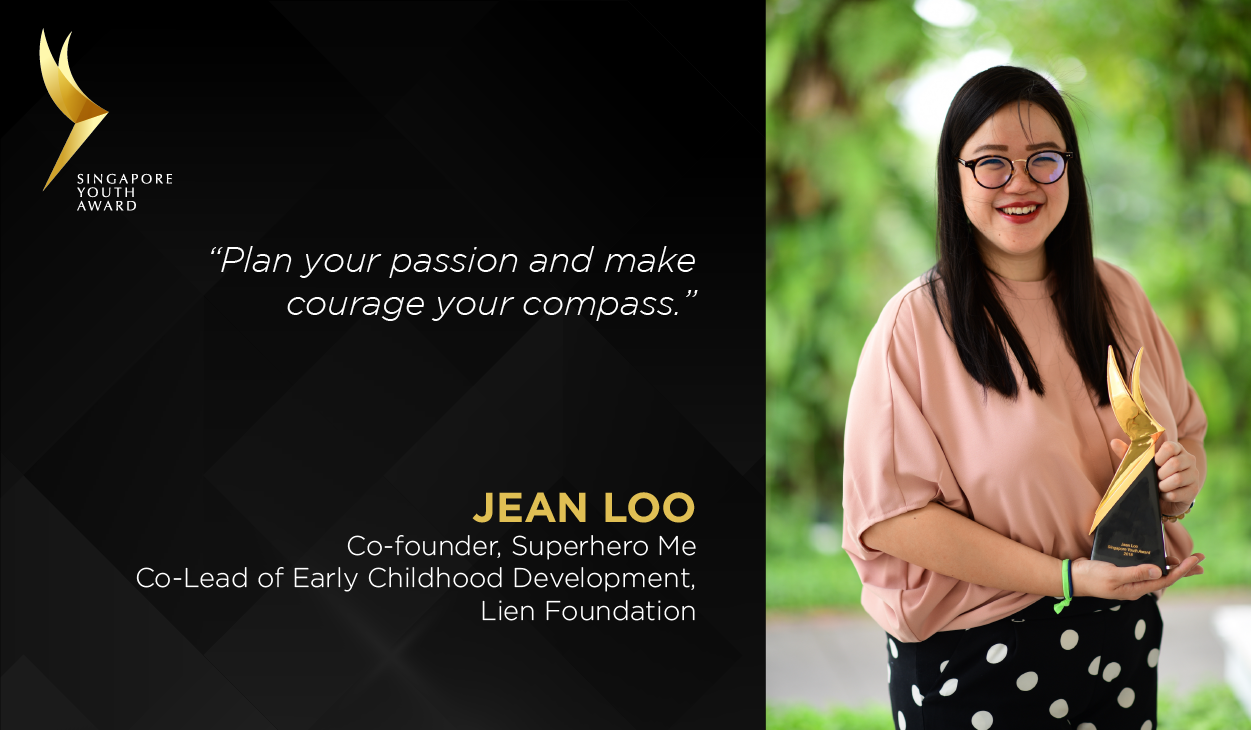 "Map your aspirations with courage, but plant your feet firmly on the ground to relate to the community's needs and your role in the grand scheme of things."
Jean is a community artist and advocate for inclusive education and equality in early childhood development. She co-founded Superhero Me, a movement that harnesses the creative arts to empower children from less privileged and special needs communities.
Founded in 2014, Superhero Me focuses on inclusive arts programming, creative advocacy and strategic cross-sector partnerships to shape the narrative of inclusion in Singapore. It is currently the only arts organisation in Singapore to regularly conduct art programmes that encourage social mixing of children with special needs and typically developing children, enabled by a team of facilitators from all walks of life. With her team, Jean has reached out to more than 16,000 people, and over 1,000 children have participated in the organisation's inclusive workshops.
Jean recognises the value of mentorship as a way to guide other young creatives in Singapore to use their craft to bridge social divides and inspire perspective. It was through "tough love" and opportunities from her mentors, which imparted grit and drove these ideals to take shape in her work today. She has personally mentored more than 40 facilitators - some of whom have already taken on leadership roles in the Superhero Me organisation and initiated projects of their own.
Jean's passion in the community arts and digital storytelling, rooted in the purpose of creating inclusive environments for young children, has opened many doors for her to share at public forums with NVPC, MOE, SGfuture and NAC, among others. Someday in the future, Jean aspires to open an inclusive arts school where Superhero Me's community of children can go on to impact the world as young adults, in their own wonderful ways.
For her dedication in creating inclusive communities in Singapore, especially in the areas of early childhood education and the arts through Superhero Me, Jean Loo is conferred the Singapore Youth Award 2018.