MOE-OBS Challenge Programme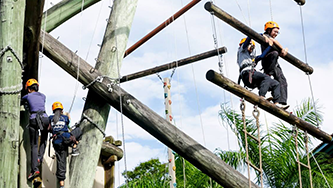 As part of the National Outdoor Adventure Education Masterplan, the MOE-OBS Challenge Programme seeks to develop ruggedness, resilience, and build cohesion amongst youths. The programme comprises a series of school-based Physical Education and Character and Citizenship Education lessons facilitated by teachers as well as a 5-day expeditionary course at Outward Bound Singapore (OBS).
Using the outdoors as the 'classroom' for learning and development, students have a unique opportunity to work together with peers from other schools and to overcome various outdoor challenges. The programme also incorporated innovative programming elements, such as new team-based challenges and expeditions around outdoor spaces within Singapore via park connectors and waterways, thereby helping students gain a deeper appreciation for our natural environment.