OBS Alumni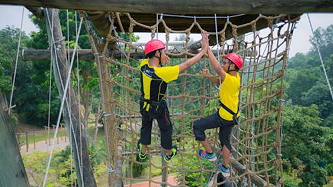 Feeling fired up after your Outward Bound Singapore (OBS) experience and want to make a positive impact to your community? Meet like-minded individuals and participate in meaningful OBS Alumni-initiated community projects such as engaging with at-risk children, distributing food to low-income families and conducting coastal clean-ups. You'll also get to mentor your fellow volunteers as you chalk up more meaningful experiences as part of the OBS Alumni!
OBS, though commonly known as Outward Bound Singapore, carries another meaning within the service community. It is fondly referred to as "Others Before Self". The OBS Alumni aims to exemplify that meaning of others before self through the various community projects.
It is a close-knit community of individuals who have been inspired by their OBS experience to make a difference to others. Our alumni are strong believers that the real journey begins when their course ends. They are connectors: bridging diverse communities with valuable support and resources. They are also catalysts: taking action to bring about positive change in the lives of thousands for whom a simple helping hand could make a world of a difference. Our Outward Bounders are big-hearted, capable, proactive, happy people – ladies and gentlemen who know what they want for the world, and gladly invest their time and experience to support key issues.
---
Just for Outward Bounders!
If you have completed an OBS course, we welcome you to the OBS Alumni! Connect with other like-minded Outward Bounders, and discover diverse opportunities for you to make a difference. You will also gain access to the exciting outdoor culture that OBS is reputed for plus a range of alumni privileges:
Complimentary or subsidized educational workshops/skills training courses

Community engagement opportunities

OBS support for alumni-initiated community projects

Access to alumni-only events

Mentorship programmes

Games meets/social gatherings
If you have completed an OBS course, you are automatically part of the OBS Alumni! Get connected with us now on our Official OBS Alumni Facebook Group!