Author: Jodie Wong
If you have been an active follower of Outward Bound Singapore's (OBS) social media pages, you would have recalled scrolling across an OBS Alumni video, which highlighted the opportunities available exclusively for OBS Alumni to further develop themselves.
With the release of the video, the main cast Raden Wirano and Grace Lim opened up about their thoughts and experiences from filming, and how OBS has played a significant role in their lives.
Something New

"I was both surprised and flattered. When I received the offer to be featured in the video, I wondered how did my experiences stand out from the other Alumni. This was because I felt that other Alumni went through greater challenges than I did," said a humble Raden, when asked about his first thoughts on receiving the main role.
Raden's OBS journey began back in 2014, which saw him attending the now-defunct 5-day Leadership Programme. 3 years down the road, he was nominated by his school (Institute of Technical Education College Central) for the Leadership & Service Award (LSA).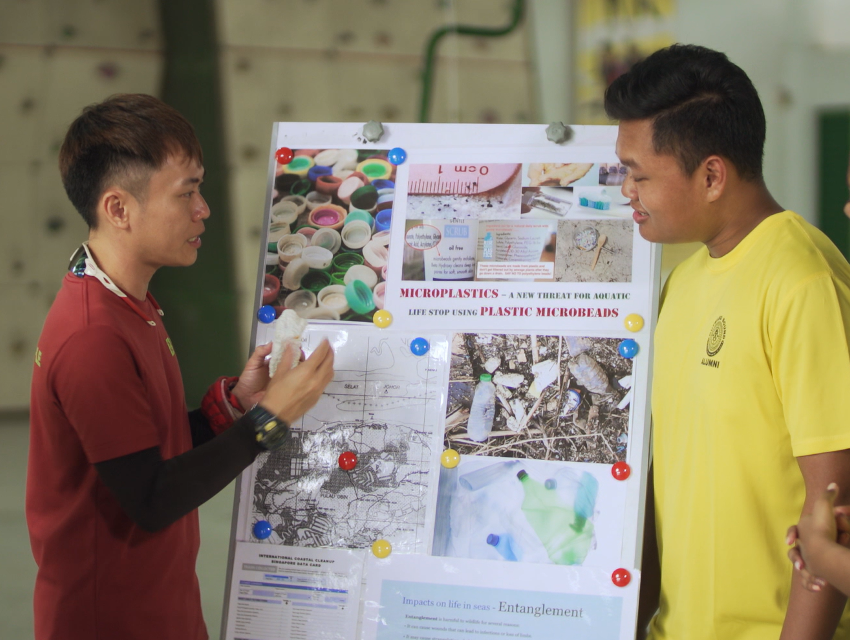 "Ever since my 5-day programme, I have always wanted to attend another OBS programme because of the unique experience that I had. I remembered being pushed to my limits back in Secondary 3, and I was curious to find out how a more mature version of myself would handle tough situations," said the recently enlisted Singapore Civil Defence Force National Serviceman.
As for Grace, she was "intrigued by the opportunity" as filming was something she had never experienced. "I wanted to give it a shot to see how far I could go. I did not expect myself to qualify for the main role back then, but I knew that I gave my all during the cast selection stage," recalled the Year 3 Temasek Polytechnic student, who attended the 5-day MOE-OBS Challenge (MOC) Programme in 2017.
Upon being asked about their filming experience, it triggered some of Raden and Grace's memories.
Raden said: "I felt lucky for the working opportunity with such a solid and professional camera crew. I was rather tired from all the retakes, but I knew that the crew weren't having it easy as well. I was also grateful that I got to know more Alumni through this filming. It was nice to hear their individual stories and meeting many like-minded individuals."
Besides meeting new people through this filming, Grace mentioned what actually happened behind the scenes, which would probably be a secret not known to many. "There were several scenes whereby we were just randomly pointing and doing ad-libs. Our lines went 'Wow, the tree is very green', 'The sky is so pretty today', 'That branch is very interesting looking'," chuckled Grace.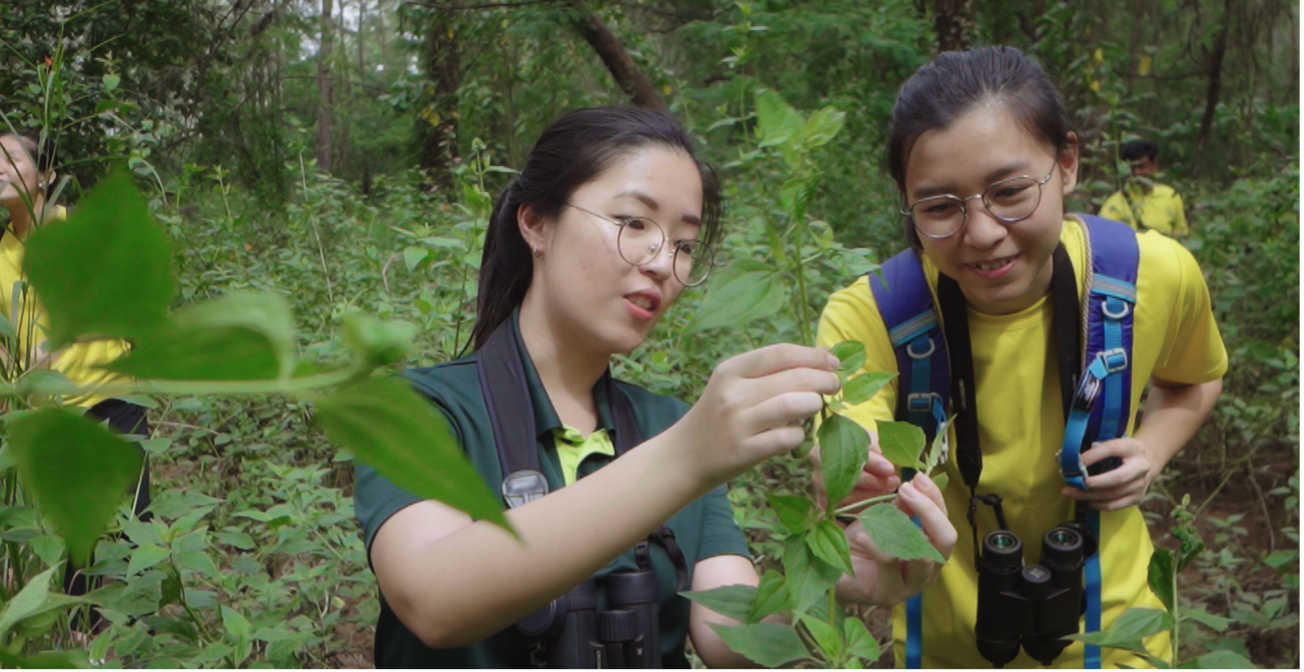 She added: "I'm glad that I could share my personal OBS experience with everyone through this video. It was nostalgic filming in Pulau Ubin Camp 1, as it reminded me of the times I spent during my 5-day programme. In addition, I managed to bring home more facts about birds from this filming, even though we did not manage to spot any birds in reality. Overall, filming was a fun and unique experience, and picking up facts about birds from filming was what made the whole experience more enriching."
The OBS Experience
What is an OBS experience without attending OBS programmes? OBS aims to create a once-in-a-lifetime experience for all participants by helping them to build resilience and character through mental and physical challenges in the outdoors.
Raden shared that his greatest takeaway from OBS was to have a "positive mindset in accomplishing any tasks", and this can-do spirit was etched on his mind ever since the cutter (small sailboat) sailing activity. He said: "During my 21-day LSA programme, our Instructor challenged us to rig (setting up the ropes to hold and control the sails) a cutter from scratch within a time limit. It was an overwhelming task for us as we were only Day 5 into the programme, and rigging was a complex process for the majority of us who were beginner sailors. However, with our Instructor's empowerment and knowledge, we managed to complete the challenge!" It was heartening to hear that the activity increased his self-confidence and he now believes that he can "tackle any task regardless of difficulty and uncertainty".
Grace expressed that she learnt to be "brave enough to push through limits" to discover what she is capable of, and being "open to new opportunities and experiences regardless of the trials that may be ahead". She elaborated: "Overcoming obstacles, especially on the height elements course, was a big part of my OBS experience. Since then, I have gained more strength and confidence and am more willing to step out of my comfort zone. I am now less afraid of the challenges ahead of me, and I believe that I can overcome anything."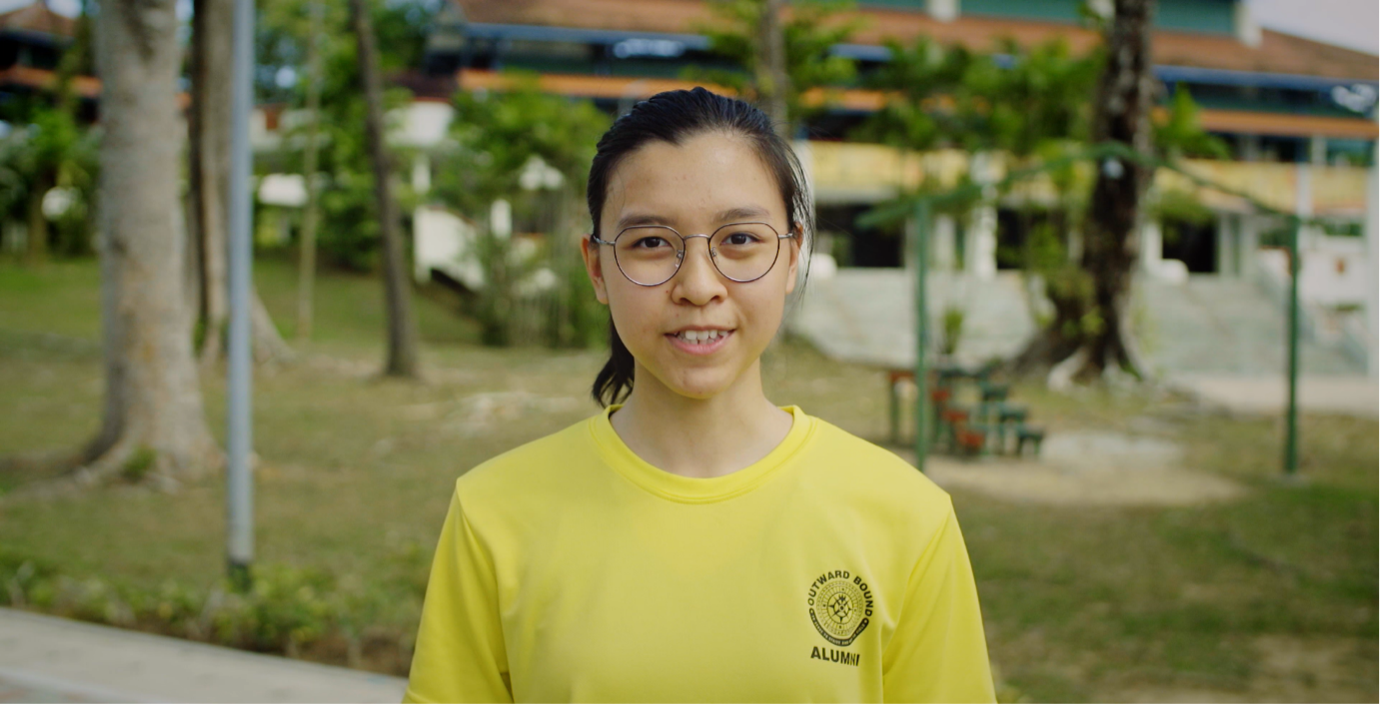 Besides developing resilience and character, OBS programmes are also designed to inculcate youth with values connecting to The Four Pillars of Outward Bound – Physical Fitness, Self-Reliance, Craftsmanship, and Compassion through Service.
On which OBS pillar do they feel most strongly for, Raden and Grace answered self-reliance in unison.
"I feel strongly for the pillar of self-reliance, as I think that it would be difficult to achieve personal goals if one does not instill a sense of responsibility in finishing a task. Building self-reliance may be a slow and difficult process, but having responsibilities and taking ownership would shape you into a better team player. As the famous saying goes – teamwork makes the dream work," shared Raden.
Grace said: "OBS has taught me many things related to self-reliance – to be independent and to never give up on myself even when the odds may not be in my favour. OBS truly gave me a platform for self-discovery and growth outside of school and home, and the Instructors helped me to grow as a person. I remembered the urban trekking activity from my 5-day programme, which was in conjunction with the Walk for Rice charity event. As we wanted to raise more bowls of rice for underprivileged families, we pledged to walk the longer route to our final destination. Although it was really tiring with the heavy backpacks, that was the moment where I felt that I pushed through my limits, and it made me realise that I had the potential to contribute to make the world better".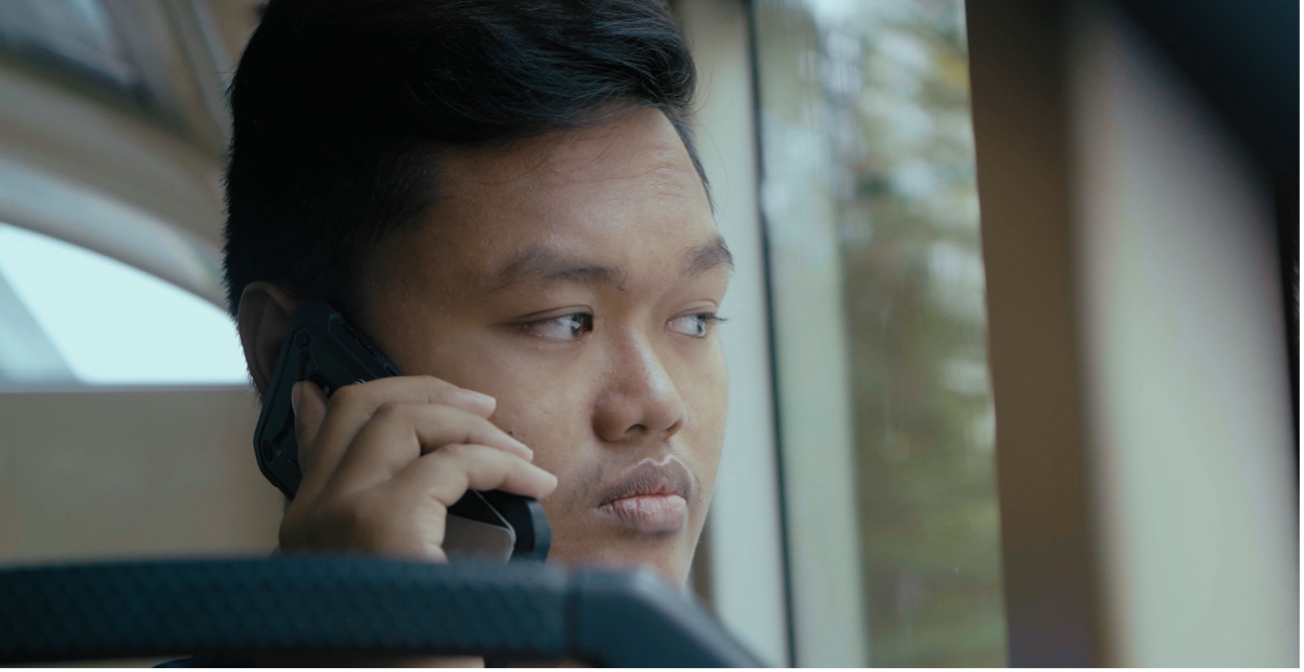 Through this video, Raden hopes to bring out the message on "how OBS programmes can allow participants to realise a better version of themselves". He also encouraged future OBS participants to be "open-minded and expect the unexpected" during the programmes, as it will be an unprecedented journey into the outdoors.
Whereas for Grace, she hopes that everyone who attends OBS will leave with "new lessons and great memories", as "every individual's experience will be different and unique, and that's what makes OBS memorable".
A huge appreciation to Raden, Grace, and everyone else who was involved in the OBS Alumni video. Thank you for the time and commitment to ensuring the success of this project, and showing what it means to embody the OBS core value – Teamwork.
Whether you have attended the 2-day 2021 MOC programme recently, or any of OBS' other programmes, you are automatically part of the OBS Alumni Family! To discover more about the opportunities with OBS, you may subscribe to the OBS Alumni mailing list here! OBS looks forward to seeing you Serve, Grow and Inspire communities.