Date Published : 19 July 2017

A Day at UBiNavigate
Photo of Organising Committee Members of UBiNavigate: Abigail, Beatrice, Christien, Clarisse, Derek, Desyre, Eddie, Eunice, Fitri, Hong Xiang, Josephine, Keith, Matthew, Shahlinin and Vera. (In Alphabetical order)
Written by Beatrice Leong (second from left, middle row)
UBiNavigate is the lovingly-raised baby of some of Outward Bound Singapore's (OBS) prestigious Leadership and Service Award (LSA) recipients' finest leaders. Presented with a multitude of opportunities to learn and grow, they're often called upon to plan, organise and successfully execute OBS-related events.
The month of June saw Beatrice Leong and her fellow members of the UBiNavigate organising committee carry out an exclusive heritage trail and visit to some of Pulau Ubin's restricted areas for members of the public.
We caught up with her for an insider scoop on what went on at UbiNavigates and got some answers for a few pressing questions as well!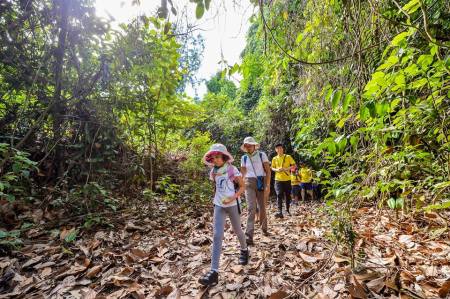 Qn: The the name 'UBiNavigate' is quite punny? So tell us, what's in a name?
As an OBS 21-Day Classic Challenge Course alumni, Pulau Ubin holds a special place in my heart as it is a place full of shared memories and amazing adventures. My team and I wanted to capture that experience of finding our feet and directing our own adventure for the public to enjoy.
Why UBiNavigate some might ask? Well, the whole idea was to get members of the public to navigate through the western part of Pulau Ubin by themselves. We wanted to present a different dimension of Pulau Ubin to the public – the one that was steeped in rich history and heritage.
That's why we called it UBiNavigate. You read it as: "YoU'll Be Navigat[ing]", get it?
Qn: How was it like to plan a community event like this? Any challenges along the way?
There's definitely a multitude of different aspects in the planning of UBiNavigate. I was part of the publicity team, where we managed social media, participants and marketing matters.
With the organizing committee members hailing from different schools and organisations, we had to quickly learn how to adapt to a whole slew of different working styles and schedules. Thankfully, we learnt how to put all our different ideas into fruitful and dynamic discussions.
Lots of mutual respect helped us transform disagreements to rapid progress as we bounced ideas off one another, unanimously overcoming every challenge.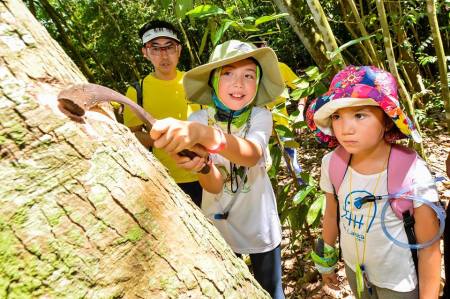 Qn: Are participants/attendees for UBiNavigate really strong and fit and outdoorsy?
Contrary to that popular stereotype of OBS and its related- events, our participants didn't necessarily fit into such a mould. UBiNavigate was organised to suit the masses, to give them an opportunity to venture into another dimension of Pulau Ubin, as well as to impart in them an appreciation of its heritage and culture. It was a non-competitive 'amazing race' styled event that saw individuals between anywhere from 12 to 65 years of age. In fact, we also had a children as young as 7 years old!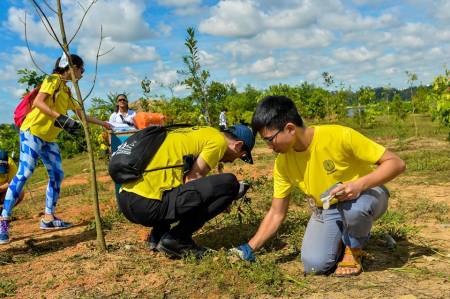 Qn: If X marks the spot, where's the most likely face to find buried treasure on Pulau Ubin?
Your best bet would be the kampong areas that the Ubin locals reside at!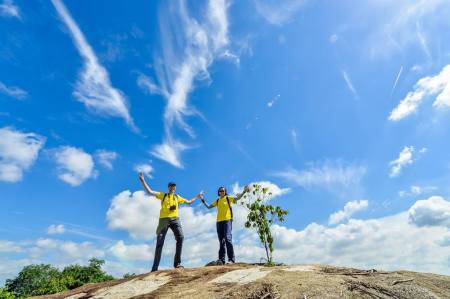 Qn: At the end of the event, what was your biggest takeaway?
My biggest take away would be having gained a deeper appreciation of Pulau Ubin and the Ubin Way. Prior to the OBS 21-Days Classic Challenge Course and UBiNavigate, I was quite oblivious to the culture of Pulau Ubin, thinking that it was only an island used for camps. I didn't realise how rich its heritage was.
Through UBiNavigate, I've spent extensive time researching on the island, collecting historical facts and information. What hit me, and touched me the most is the cultural legacy passed down by the local community who loved their home very, very much.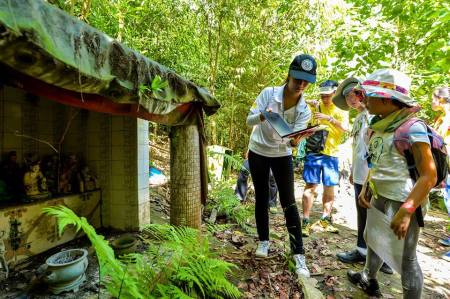 Qn: Any shoutouts or words of thanks to your favourite people in the programme?
UBiNavigate wouldn't have been possible without every single member of the organising committee. In two short, undeniably stressful but hugely rewarding months, we saw our project materialise and take flight. I'm grateful to have a team of resilient and responsible people that always placed cooperation and respect above all.
To my team members: We might have our ups and downs but I'm glad that each and everyone of you are part of Elizabeth (watch name) and the Organising Committee Members of UBiNavigate!
–
UbiNavigate is one of the many events in celebration of OBS' Golden Jubilee. Stay tuned for more upcoming events and come join the festivities! Got an OBS story? Share your experience with us, whether as a past participant, instructor, staff or anyone who has been touched by their experience at OBS, and hashtag #MyOBSstory