Date Published : 21 March 2018

A job no money can buy
Ms Saparila Binte Ali's workplace is unique. The sea is just in front of her office, which is surrounded by the forest at Pulau Ubin. Sometimes, she would see a wild boar roaming around the place, an eagle hunting for food, a family of otters swimming around, and the occasional hornbill flying to roost in a tree.
"It's really awesome," she said. "You can't find it anywhere else unless you work in the zoo. It gives me a kind of peace, to be away from the hustle and bustle of the city."
That's why Ms Saparila has stayed with the same organisation — Outward Bound Singapore — for more than 30 years. OBS' longest-serving employee joined the adventure training centre in May 1986 when she was seconded from the Ministry of Health's School of Nursing, where she was working as an administrative staff. "My boss, a matron from the School of Nursing, felt that it would be better for me to experience a different kind of environment," she said.
Since then, she has seen OBS progress over the years — from under the charge of the Ministry for Defence to People's Association (PA), and most recently, to the National Youth Council.
She can still recall what it was like under the military, when instructors stressed physical ruggedness and mental toughness. "Participants had to complete activities, no excuses," she said. "Whether they liked it or not, they had to complete the activities even if they ended up coming back late for their meals, sometimes as much as four hours later."
Ms Saparila herself has changed over the years, in terms of both job scope and character. Starting out as an instructor, she later took on the post of training coordinator, and is now the manager of the enrolment team.Working with OBS, she said, has taught her to persevere and never give up, and have a positive outlook in life. She has also learnt the value of both self-reliance and teamwork, as well as the importance of being prepared.
"It has become my habit to plan ahead for contingencies,"she said. "When I am in a boat or cruise ship, for example, out of habit I will take note of where the life jackets and lifeboats are. In several minor emergencies, I was able to remain calm and not panic." Many of the lessons, she added, came from going through many obstacles and challenges, which she said are "part and parcel of
OBS life".
When Ms Saparila first joined OBS, she couldn't swim and was afraid of the sea as well as of heights. She also had no outdoor experience. "It was a culture shock," she said. "But true to the OBS motto, I was given the opportunity to try these challenges out, to prevail and to overcome the hurdles." One of the most memorable incidents she had was leading 48 participants, two new instructors and a mechanic on a five-day kayaking expedition around Indonesia's Batam island. "It was my first experience leading a group of participants overseas," she said.
Unfamiliar with the foreign waters, she had to rely on her sea charts and compass to get to the campsite, which they reached late at night. "After ensuring that all the participants were all safe on land, I had to moor the lead boat out at sea. Because it was dark, I couldn't see that the sea floor wasn't flat," she recalled. To her shock, when the group got back to OBS days later, she was told that there was a hole in the hull of the boat, possibly caused by a rock on the sea floor when she had moored the boat. "I'm glad that the participants reached OBS safely in one piece!" she said.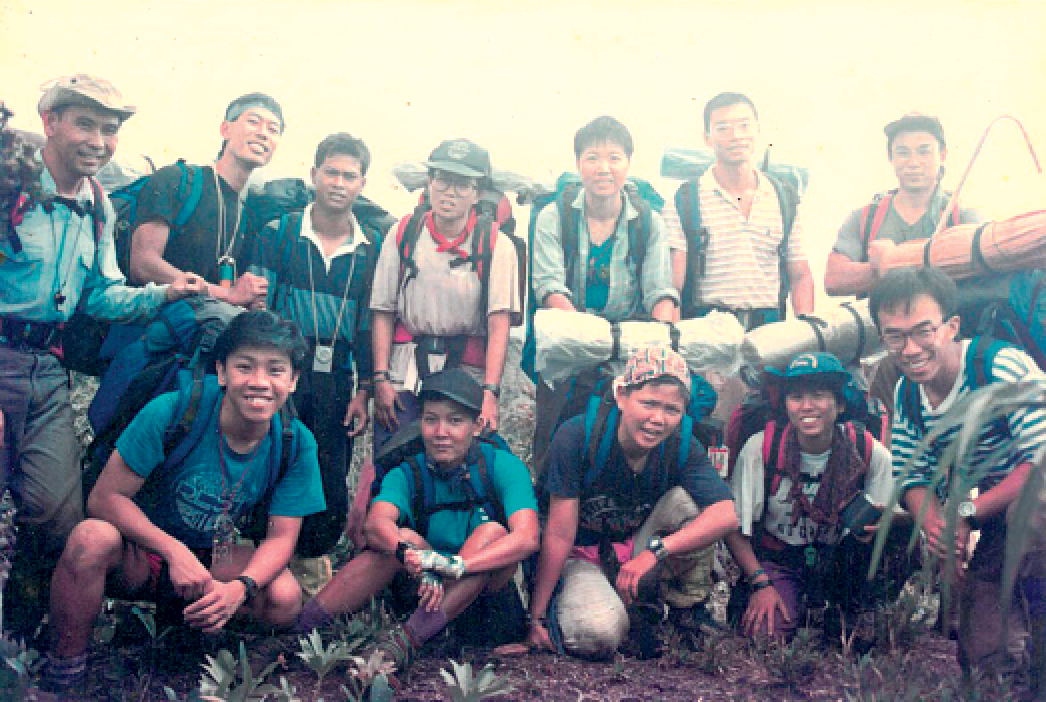 Ms Saparila Binte Ali (front row, second from the left) with fellow instructors on Mount Korbu in Perak, Malaysia. Picture: Courtesy of Ms Saparila Binte Ali
Of the roles she has done, Ms Saparila said that she enjoyed being an instructor the most. "I enjoyed doing all the activities and teaching and facilitating young participants to learn," she said. "There is so much joy when you see participants learn about themselves in the tough and challenging outdoor classroom." Indeed, the most rewarding moments, she added, has been helping participants learn the value of self-awareness and teamwork, and to develop a new appreciation for nature. "Looking back, I realise that I have learned much too," she said. 'It is knowledge and experiences that no money can buy."