Date Published : 21 March 2018

An experience of a lifetime
Having spent nearly 25 years at OBS, Mr Nicholas Conceicao, 50, is one of the longest-serving members of the staff of the outdoor adventure institution. Joining OBS as an instructor in 1993, he has risen up the ranks to become its Executive Director.
Over the years, Mr Conceicao has seen OBS transformed from a little-known adventure camp to a modern Outward Bound centre that is the envy of many in the Outward Bound fraternity. He has been part of its evolution to meet the emerging needs of Singapore youth, expanded its programmes to enable more people to have the Outward Bound experience, and helped upgrade its staff with the specialist skills and deep expertise to run new programmes and share their knowledge to help the outdoor industry grow.
Ironically, however, he knew nothing of the organisation before joining it. "I did not have the opportunity to attend any OBS course during my schooling years, as you had to be an outstanding student leader in those days to be selected," he said. "My parents did not see the value of me spending too much time on school CCA, so it was straight home for me after school."
Mr Conceicao's first exposure to outdoor sports came when he learnt to swim at the age of 17 and took a life-saving course. It sparked a keen interest in water sports, which eventually led him to pick up windsurfing and become a freelance windsurfing instructor. Teaching people from all walks of life, he discovered the joy of guiding and nurturing people to conquer their fear of the water and to enjoy the open sea.
So when he graduated with an economics degree, while most of his peers aspired for a lucrative career with a private bank or stockbroking firm, Mr Conceicao found himself drawn to a job advertisement for OBS instructors. It said: "Looking for passionate individuals keen on a career as outdoor instructors." "It piqued my interest," he recalled. "Although I knew little of the job, it seemed a good deal for a fresh graduate like myself who didn't want to be desk-bound — a job in the outdoors with a graduate salary."
So he sent in an application — his only one — and signed up for the next instructor selection camp, which he passed with flying colours. (Much later, he was told that he had, in fact, been ranked the top candidate during the selection camp.)
It was an interesting time to be at OBS, as the outdoor adventure centre was in a period of transition, having been moved from under the charge of the Ministry of Defence to the People's Association (PA) in 1991. Its Director, Mr Winston Lim, a former Colonel from the Singapore Armed Forces, was going all out to reshape, rebrand and renew the centre.
This, said Mr Conceicao, was no easy task. "In the early years when OBS first returned to the PA, OBS had earned the unenviable reputation of being a tough boot camp run by the army," he said.
"During our outreach to schools and corporate organisations to expand our programmes, there was apprehension that OBS was too physical for their training needs."
Frequent roadshows, however, helped to showcase OBS' efforts to refresh its training approach, while programmes held for school principals, physical education teachers and corporate managers gave them a taste of the modern educational pedagogy and training methods that OBS programmes had adapted for use. "It took us several years to change that image of OBS," he said, "for OBS to become recognised as a national institution for adventure learning."
Throughout this journey, Mr Conceicao found himself growing in tandem with OBS.
"I was indeed fortunate to have joined OBS when it was undergoing its transformation to a modern Outward Bound centre," he said. "As I matured and gained experience in the organisation, I was continuously entrusted with enlarged leadership responsibilities that challenged me professionally."
Indeed, over the years, Mr Conceicao has taken on a wide variety of roles within OBS, which not only gave him a view of many aspects of the running of OBS, but also gave him the confidence to take on increasingly important responsibilities. When he was promoted to Head of Overseas Youth Programmes (OYP) in 1995, he learnt to oversee the development and operations of OBS programmes at Outward Bound centres in the region. Then, as Assistant Director of Training, he handled the selection and training of instructors, oversaw the Programmes Development and OYP units, as well as supervised day-to-day operations.
He can still remember the "defining moment" when someone was needed to fill this post.
"None of us among the junior section heads had the confidence to step up to the job," he recalled, "so Mr Lim gave us an ultimatum: 'One of you will have to step up to the task as this role is not for an outsider; we need someone who understands Outward Bound!' As he looked across the room at all of us, Mr Lim asked, 'Nick, will you give it a shot?'"
Remembering what the heart of OBS was — pushing one's limits, taking on challenges and being Outward Bound — Mr Conceicao said yes. Later, he added on experience in strategic as well as operational roles, as Deputy Director (Training and Operations) and General Manager (Operations Management) respectively. In June 2006, Mr Conceicao was appointed Director of OBS — the first Director to come from within the ranks of the instructor cadre.
Mr Conceicao paid tribute to the predecessors who gave him the guidance and mentorship to undertake his various postings at OBS, as well as the peers and subordinates who supported him with a combined strength and collective wisdom.
"As we achieved many successful milestones over the years, it was the collective wisdom and support of the team that gave me confidence to push the boundaries of what we do at OBS," he said. "I always made it a point to challenge everyone in the team to achieve their fullest potential and to find the best person for the job."
Some of the most satisfying moments of his career at OBS came from his early years as an instructor. As an instructor, he explained, he had the opportunity to impact participants directly and witness first-hand how OBS transformed them and helped them discover their inner strengths and become more confident.
"On the last day of the course, aboard the ferry boat out to Punggol Point jetty, I would observe many of my participants looking at their hard-earned OBS certificate in their hand and often, I would see some of them with tears in their eyes," he said. "You know that you made a difference when they tell you they don't want to go home; they want the course to continue."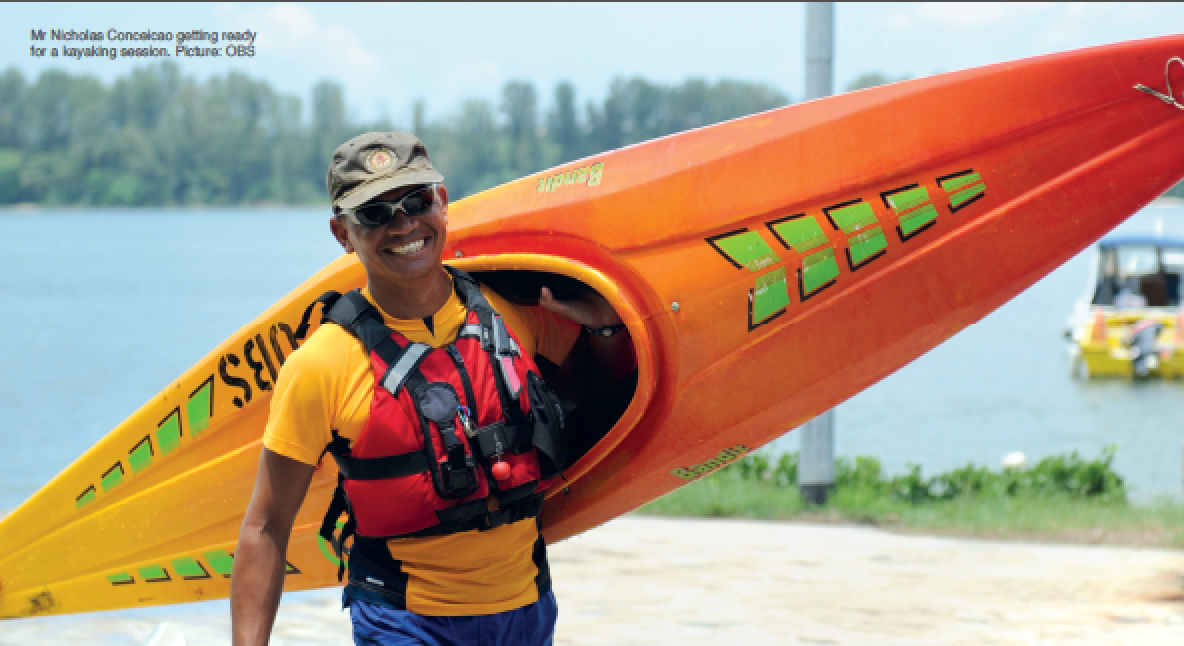 Mr Nicholas Conceicao getting ready for a kayaking session. Picture: OBS
As Director, Mr Conceicao also counts two significant milestones in OBS history as among his proudest moments. One was when OBS made both Olympic and Outward Bound history by hosting the Singapore Youth Olympic Games (YOG) Island Adventure segment of its culture and education programmes in 2010; it was the first time an Outward Bound programme was included in an Olympic training programme for athletes. The other was when OBS sailed its cutter from Pulau Ubin to Lumut, Malaysia, and back to mark its 45th anniversary in 2012. The 1,200-km expedition pushed staff far out of their comfort zones, as they had to sail in unfamiliar waters for 11 days. "I remember that when I mooted the idea to mount the expedition within a 2½-month time frame, the staff thought I was out of my mind!" recalled Mr Conceicao with a laugh. "I reminded them that this was what Outward Bound was… to venture into the unknown and push ourselves beyond our self-imposed limits."
Both the YOG Camp and the Singa-Lumut expedition, he added, exemplified the OBS can-do spirit. "The most important lesson I have learnt is that as a leader, you have to create the means and conditions for everyone in the team to share and contribute to the organisation vision; that everyone's talents and strengths have a part to play in achieving success," he said. In the same way, he added, OBS has imbued him with the same can-do spirit to dream big and to stay on course, no matter how daunting the setbacks.
"When I first joined OBS, my parents kept asking me, 'When are you going to get a real job?'" he recalled. At the time, he confessed, he too had not expected to stay beyond a few years.
But, he added, he has since seen himself realising his full career potential and aspirations. "I'm privileged to have been entrusted with many opportunities to undertake leadership on several important projects within OBS, the PA, and now, the National Youth Council and the Ministry of Culture, Community and Youth."
Apart from serving on the Outward Bound International Operations Committee and Outward Bound International Risk Management Committee, Mr Conceicao also sits on the Republic Polytechnic's school advisory committee, contributing to its School of Health and Leisure. He has also had many opportunities to hone his leadership and strategic thinking skills through projects, such as chairing the PA's 50th anniversary celebrations committee, curating the Youth Corps training curriculum, and steering the conceptualisation of the building of OBS' new campus on Coney Island.
Mr Conceicao's journey is best reflected in an especially memorable expedition in Hong Kong in 1994. He led a group of Ngee Ann Polytechnic students on an Overseas Youth Programme, in which they took on a challenging 18-day expedition that included sailing a brigantine tall-ship called Ji-Fung (Spirit of Resolution) from Hong Kong to Luzon Island in the Philippines, trekking overland, and sea-kayaking to rural villages. Crossing the South China Sea to the Philippines, he said, was "a life-changing experience", as the crew were engulfed in the tail end of a passing typhoon. But this experience gave the team the seamanship skills, confidence and teamwork to take over the running of the ship on the return journey to Hong Kong.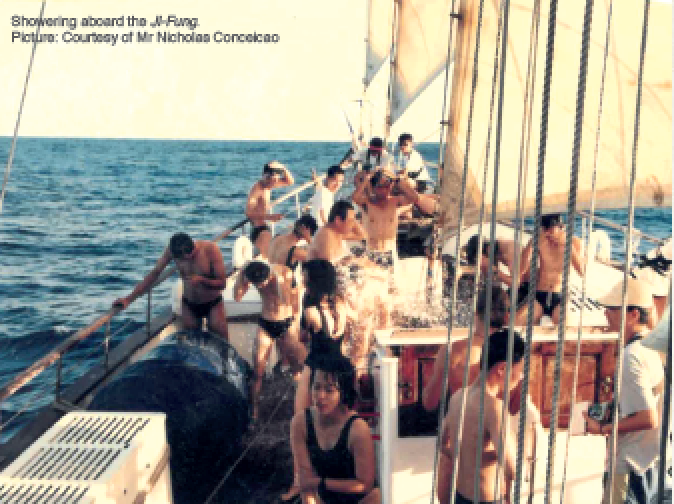 Showering aboard the Ji-Fung. Picture: Courtesy of Mr Nicholas Conceicao
"For me, the experience aboard the Ji-Fung has been etched in my mind as the epitome of venturing Outward Bound," he said. "The uncertainty of leaving safe harbour for the open sea, overcoming physical and mental challenges in the face of adversity, and the feeling of triumph when we completed our journey, are indescribable."
Mr Conceicao is thus confident about OBS' future, especially on the vital part it will play in Singapore's National Outdoor Adventure Education Master Plan, which will send all Secondary 3 students to OBS, and the OBS@Coney project.
"Today, OBS is a household name that is familiar to most Singaporeans," he said. "In contrast with our early years when some people were apprehensive about attending OBS, many parents today regard OBS as an important rite of passage for their children that is not to be missed."
Mr Conceicao's own vision is for every person who attends OBS to exemplify its motto, 'To serve, to strive and not to yield'.
"Every OBS instructor will send off his or her watch with the same message; that after completing their OBS course, it is just the beginning of their real Outward Bound journey," he said. "I hope that with the confidence and mental fortitude gained, every participant can play a leading role as an active citizen to contribute to Singapore."