Date Published : 21 March 2018

If at first you don't succeed
When Mr Melvin Lam first failed to be shortlisted after his OBS Instructor Selection Camp in March 2016, he cried. "My heart was really broken," he said. "I can't really describe how sad I was, just really broken."

He was deeply disappointed because he, as well as his friends and family, had expected him to pass with flying colours. After all, he had been an ultra-fit Commando in National Service, had done a diploma in outdoor and adventure learning, and even had experience working as an intern at an Outward Bound centre in Taiwan. So even when the selection camp stretched candidates to their limits and whittled down the original group of 27 to 16, Mr Lam had cheerfully pushed on and endured, hoping he would make the cut. "I can't share what happened," he said with a smile, "but we were pushed out of our own comfort zone, we struggled with challenges, and the stress was always pounding on our heads." When he failed to get the all-important notification that he had been accepted, it seemed like the end of a dream.
The idea of becoming an OBS instructor was first sparked by a five-day OBS course on Pulau Ubin in 2004 that Mr Lam, then 15, attended. Beyond the sheer fun of kayaking, trekking and climbing, he was touched by the sight of Outward Bounders helping one another. "I learned to work with people with different character, to accommodate and support one another, and to care and understand other people's perspective," he said. On the last day, his instructor suggested, 'Perhaps some of you might want to come here and join us as an instructor?'" Mr Lam said he didn't think too much of the instructor's idea then. But it stayed on his mind as he served his National Service and went on to polytechnic, where he pursued a diploma in outdoor and adventure learning. There, he began to realise that his OBS and other outdoor experiences had helped him discover more about myself and understand his own strengths and potential.
An internship at Outward Bound Taiwan, along with the interaction with his teachers — most of whom were former OBS instructors — inspired him further and reminded him of his OBS instructor's suggestion. "I thought to myself, 'Wouldn't it be beautiful to help people through the outdoors, to allow them to discover more about themselves, just like how it happened to me?'" he said.
So, before he completed his studies, Mr Lam looked up OBS and applied for the next instructor selection camp in March 2016.


Left: Mr Melvin Lam (last row, leftmost) and his trainees in 2017.
Right: Mr Melvin Lam with his OBS mentor, Mr Mohammad Zulhilmi Bin Mohammad.

When Mr Lam was notified that he was not selected, he quickly picked himself up. If he was going to become an OBS instructor, then he would keep striving; yielding was out of the question. He found inspiration, he said, in a quote by writer Mark Twain: "Twenty years from now you will be more disappointed by the things that you didn't do than by the ones you did." Said Mr Lam: "When I grow old, I want to know I made a difference in someone's life. There was no way I was going to give up just because I failed the first time."
After applying for the next selection camp in November, Mr Lam spent the next seven months not only training hard to make sure he was physically fit, but also working for outdoor companies to learn more about the industry. When November came round, he gave his all — and was finally selected. It was during this test, that Mr Lam really began to see what made an OBS instructor. "It is only through stress and adversity that we see the true colour and personality of a person," he said. "You kind of see why there is such a selection test, to pick the right individual for the job. Now that I've become an instructor myself, having 12 to 16 participants under my care, I can see that there are a lot of responsibilities involved. There are lives under my care."
After completing six months of intense training, Mr Lam, now 28, became a full-fledged instructor in July 2017. He finds great joy, he said, in teaching participants to use the kayak, cook outdoors, pitch a tent and navigate, and pushing and stretching them so that they discover strength, resilience and values such as compassion. "A lot of my friends believe I have lots of fun on my job, kayaking and rock climbing. Well, that's partly true but it's way more than that!" he said with a laugh. OBS instructors, he said, are constantly looking out for participants' safety and ensuring their development as they conduct each activity. "It's funny how students always call us 'Cher, cher'," he said. "But I like to see myself as a big brother to them.
To understand the difficulties that each of them faces, to help them when they are in need, to teach when they are learning something for the first time, and to be with them through the challenges." Watching students who are afraid of heights or water overcome their fears and become stronger, for example, gives him great satisfaction. But he's also learnt from the participants, he added. "The compassion, care and perseverance they portray can be really amazing and beautiful," he said. "In my own life, I've learned to be patient and to love those around me more."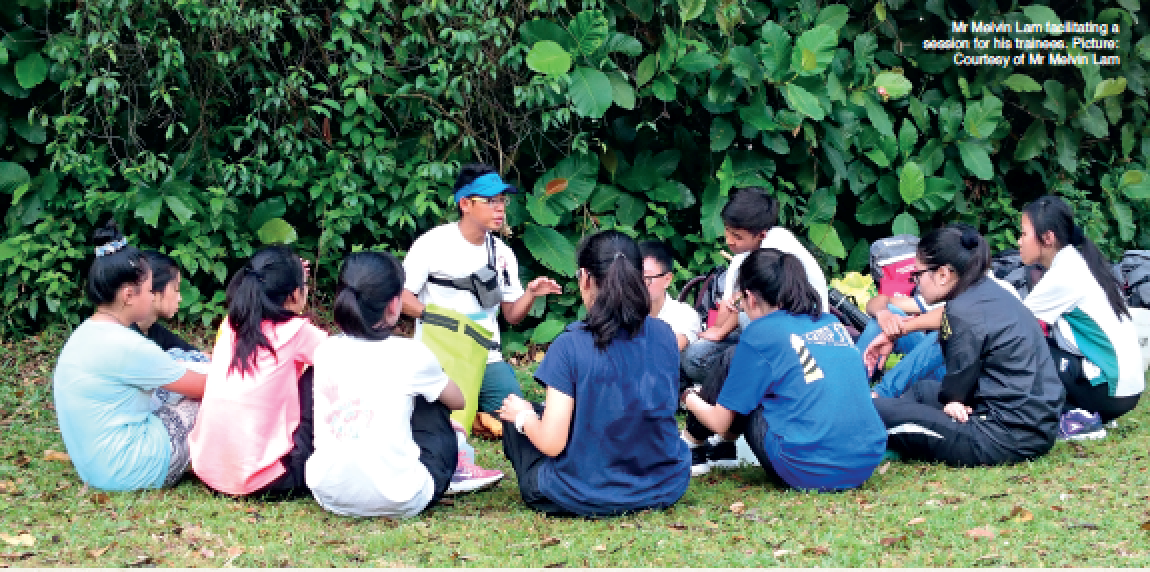 Mr Lam said he's especially touched when students come to him to thank him; some even write little notes to tell him how much he's imparted to them. "I think that's really beautiful. It warms our hearts to know we made a difference," he said. Mr Lam hopes to train new instructors one day. "I would love to impart the skills and knowledge that I've gained and share them with other people," he said. This includes his own experience of failure, determination and success. "OBS has taught me to never give up in whatever challenges there may be," he said. "What is life when everything is so smooth and easy? A smooth sea will never make a skilful sailor."
Sign up as an OBS Instructor today! Visit here to find out more.
Pictures: Courtesy of Mr Melvin Lam