Date Published : 13 February 2017

Let Go and Move On - An OBS LSA Story
While some may have felt they've grown physically and mentally during an OBS 21-day course, Jing-Wen knew that she gained much more – she learnt to move on from her past.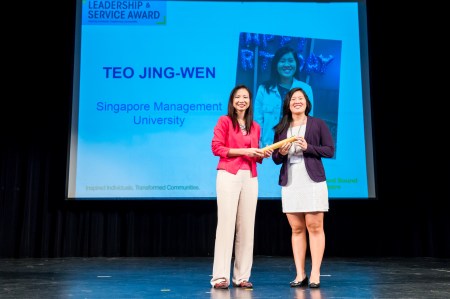 Jing-Wen receiving the OBS Leadership and Service Award
HER STORY
As a former athlete, Jing-Wen had been given many opportunities to showcase and develop her skills and talents. Not forgetting 2013 when she was also given the chance to attend the try-outs for the Southeast Asian Games (SEA) and to represent Singapore as a national swimmer.
"This was, of course, huge for me. It signified a chance for me to step up and step out into the international stage through the most prestigious competition in the region."
She recalled how she "trained a lot, and sacrificed a lot" during the preparatory stages. She even took a gap year during her Junior College days to attend an overseas training camp that her parents supportingly funded for. The hard work eventually paid off and she made it to the national team.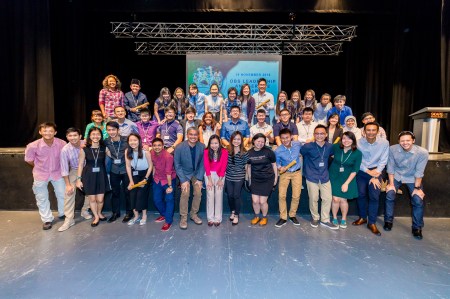 Jing-Wen alongside the other awardees during the award ceremony. The award ceremony represented a new beginning for her.
Albeit the victory of entering the prestigious competition, Jing-Wen regrettably caved under the pressures during the actual SEA Games preparation. She admitted: "I decided to take the easy route out, to give up and walk away from the sport". In retrospect, she knew that her setback wasn't in the competition but in the fact that she gave up what she had worked so hard for.
"As a result, I changed.From someone brimming with confidence, always daring and willing to try new things and speak out, I became someone lacking in confidence – an introvert who preferred to keep things to myself fearing that my thoughts and ideas would never be good enough."
But things changed after she attended the OBS 21-day Classic Challenge Course.
A NEW BEGINNING
Having heard from a senior about the opportunities and life experiences the OBS Leadership and Service Award (LSA) gave, Jing-Wen decided to take a leap of faith by applying for the award. She "felt that she had much more to learn especially if [she] wanted to go further in leading and serving".
She was pretty confident about the physical challenges the 21-day course would bring since she already had prior experience as a former athlete. Instead, what worried her most was having to meet new and diverse people, and spending all her time with them. Yet at the end, she recalled how everything "exceeded all of [her] expectations", mentioning that the activities "tested [her] mental capacities" and was surprisingly physically drained after the many expeditions she endured.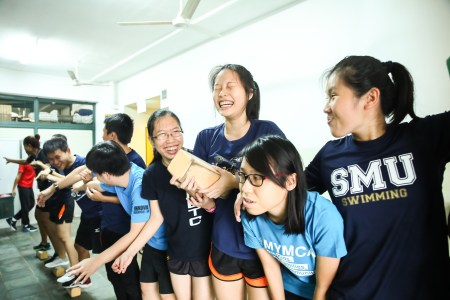 Being introverted, even playing team games was a step of faith for Jing-Wen (right)
"I FELT THAT MAYBE I DIDN'T DESERVE TO BELONG HERE"
While the introvert preferred not to be in the lime light and had always tried to keep a close door so that no one would see the vulnerable side of her, the 21-days stretched Jing wen and pushed her out of her comfort and quiet zone.
There were moments during the course where she was given opportunities to lead her watch. At the start, Jing-Wen remembered that she felt very insecure then. She was unsure about her abilities to lead others and feared that she wouldn't be well accepted by the group especially when the others seemed to be more capable. She was also very hesitant about decision-making and often, the others had to help her make decisions instead. "I felt that maybe I didn't deserve to belong here" she shared.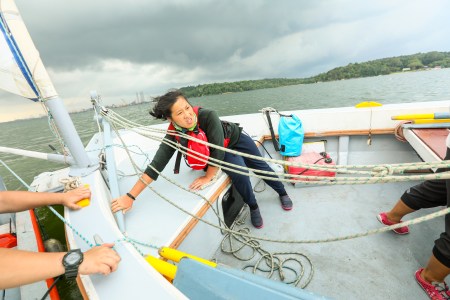 Jing-Wen leading the expedition and steers the cutter
FEEDBACK AND ENCOURAGEMENT DID THE TRICK
Throughout the course, Jing-Wen remained open to feedback from her watch. "I realised that feedback was important if I wanted to continue learning and growing to be a better person and leader" she said. In fact, it was through their constant support that Jing-Wen began to feel more confident of herself. Later on during the course, she was given another chance to lead the final expedition, and this time round she aced it.
Joining the LSA awardees on kayak were Dr Kumaran and National Youth Council's Chief Executive, David Chua.
"My kayak buddy, Alvin, encouraged me to step up seeing it was our last expedition for the course. We also told ourselves to take up the challenge and push ourselves to realise our fullest potential" Jing-Wen shared.
Despite little knowledge on what to expect, the duo stuck together and successfully led the watch through their expedition on kayak. "I thoroughly enjoyed myself, especially when I saw the entire mobile coming together to help and encourage each other" she said, realising that it was in that moment when she felt accepted as a leader and was able to step up and display leadership.
"IN ORDER TO TRULY MOVE ON, WE HAVE TO FIRST KNOW HOW TO LET IT GO"
As Jing-Wen reminisced, she shared a quote that her watch mate left her with during the reflection sessions. "In order to truly move on, we have to first know how to let it go", and that struck a chord in her heart. She realised then it was time to let go of her past failures, self-doubts and fears – to forget her stance at the SEA games and instead, "live with [her] heart on [her] sleeve" and truly be herself once again
Jing-Wen and her watch mates with smiles during their land expedition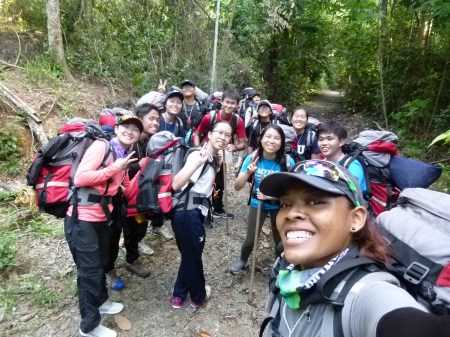 The experiences during Jing-Wen's 21-day journey with OBS coupled with the many encouraging words from her watch eventually gave Jing-Wen the strength to step out of her pit and become a different and better person.
As aptly put by Jing-Wen, "for those who are still holding on to any past regrets, for those who have yet to put down their past disappointments and failures, let go. And then you can find it in yourself to finally move on."
~
Want your life to be changed too? Take the step of faith and apply for the OBS Leadership and Service Award now!
Author: Staff Writer