Date Published : 21 March 2018

Sharing the love of adventure
After 12 years as an instructor, Mr David Lim left OBS and later set up an adventure consultancy with fellow instructor Edwin Siew, hoping to spread the OBS spirit of adventure to more Singaporeans. It was in line with something he always wanted to do, given his own lifelong passion for the outdoors.
Ten years later, however, he was back at OBS with a new task that continued his mission: To help inspire thousands of young people through an ambitious plan to send all secondary students through OBS. This, he said, was his next "South Pole".
Mr Lim knew exactly what he was saying. In 1999, he and three others did Singapore proud by becoming the first Singapore team to trek to the South Pole. Man-hauling some 100kg or so of supplies over more than 1,100km through -30 deg C temperatures, the four men took almost two months to reach the Amundsen-Scott South Pole Station in December 1999, just before the turn of the millennium. Another four men, including OBS instructors Edwin Siew and Kuak Nam Jin, also part of the Antarctica 2000 team, summited Antarctica's highest mountain, Mount Vinson Massif, a week later.
For Mr Lim, it was the highest point of a career in outdoor adventure. He had joined OBS after graduating from university, inspired by a field attachment with Outward Bound Australia that he had done as part of his studies. "After attending a nine-day programme with an Outward Bound Australia instructor, I saw that the outdoors had a lot to offer and was a great teacher," he recalled. "My group of participants came from different states and backgrounds, and I could observe them slowly transforming into a better team as well as individuals. I decided then that I wanted to help people by being an OBS instructor."
In Singapore, Mr Lim joined OBS in September 1995. Several years later, when the idea of sending a Singapore team to Antarctica came about, Mr Lim, then team manager, made a beeline for the team. At the time, it would have seemed impossible, given his inexperience with polar trekking. But Mr Lim was determined to give it a shot. "Outward Bound is about overcoming challenges and having the tenacity to face the unknown," he said. "I wanted to experience first-hand what it means to live the motto, 'To serve, to strive and not to yield'. I wanted to inspire younger generations to dare to dream."
Fulfilling that dream, however, did not mean there was no hard work involved. After being selected, Mr Lim and his teammates spent many weeks training for the expedition. They did five-hour runs, dragged car tyres across rough terrain, and went for several trips overseas to learn the skills needed, including cross-country skiing, polar navigation and rescue techniques. The hard work paid off, and the Antarctica 2000 team returned victorious, having achieved their aims. But while they were feted as heroes, Mr Lim wanted to do more — to share their victory with all Singaporeans.
"I went to give talks at both primary and secondary schools to inspire students to dream big dreams and achieve them," he said. "I shared my experience with participants and younger instructors, and encouraged them to find their 'South Pole'. I told them, 'Never give up'."
Mr Lim said he came back from Antarctica with a fresh approach to life. "I now see things in a different perspective; I treasure what I have," he said. "I am more determined and once I start something, I will complete it."
The expedition also stoked his passion for adventure and determination to spread the love of the outdoors. In 2007, after 12 years at OBS — he was by then its Head of Training Operations — Mr Lim left to work at Republic Polytechnic, where he set up its Adventure Learning Centre to provide experiential learning programmes for both students and staff.
In 2012, he then set up adventure consultancy Incredible Journeys with Mr Siew, who had also summited Mount Everest in 1998 as part of the first Singapore team to conquer the world's highest mountain. There, the two men strove to inspire youth and working adults, sharing their adventure experiences as well as knowledge. Mr Lim later moved to Boys' Town as Head of Residential Services.
Over the years, Mr Lim has also personally inspired people whom he has mentored or instructed to aim for their own "South Poles" — for example, Mount Kinabalu in Malaysia.
In February 2017, Mr Lim, 47, returned to OBS to help oversee the roll-out of the National Outdoor Adventure Education Master Plan, which aims to give all Secondary 3 students the opportunity to go through OBS courses. "This is an exciting project because given enough time, we can build a resilient society," he said. "It's my next 'South Pole'!"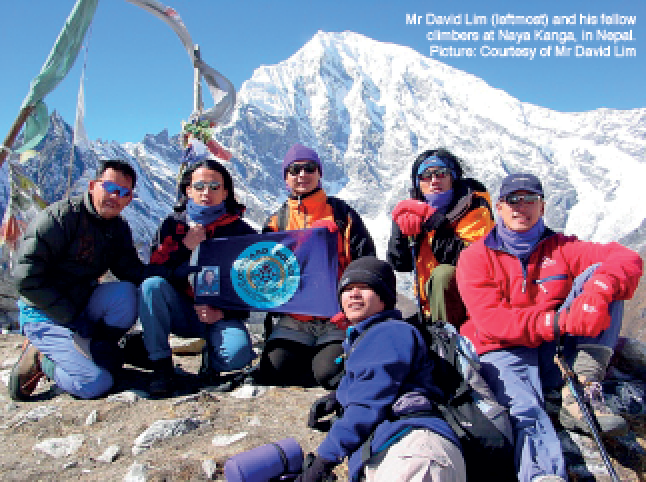 Mr Lim knows that the plan will be challenging, as OBS will have to handle many more students than it has had annually. But he believes that it will help OBS stay relevant as a key institution for building a "rugged society" in Singapore.
"I would say OBS is sailing into a great unknown for this expansion plan," he said. "But it must stay true to its spirit of exploring unfamiliar territory and overcoming obstacles. OBS' biggest strengths are its ability to meet challenges head-on and adaptability to change. It's like a sailboat with a competent crew. When the storm comes, the crew is able to sail through it."
Picture: Courtesy of Mr David Lim