Date Published : 08 April 2016
My OBS Experience – Lisa Giam
I am Lisa Giam, a Secondary 3 student from Kranji Secondary School who just recently attended an Outward Bound Singapore (OBS) course at Pulau Ubin. It was a much anticipated 4D3N for me ever since my seniors attended this camp as they shared about how much fun they had there. This made all of us really excited for our turn to participate in OBS.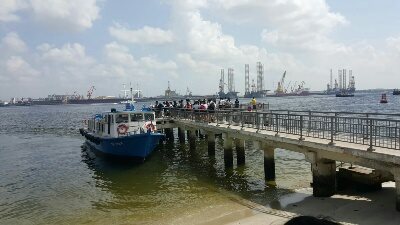 Setting off on the boat to Ubin (Credit: Kranji Secondary School Facebook)
We started off with a boat ride to the island. Once we reached Camp 1, we had a tour around the campus by our instructor in our watches (groups) to get us started. An official welcome and introduction from all the instructors officially kicked started our journey with OBS.
On the first day, the main highlight for us was learning to cook our own dinner and pitch our own tents. It was the first time doing these for many of us and we were very excited to learn these new skills.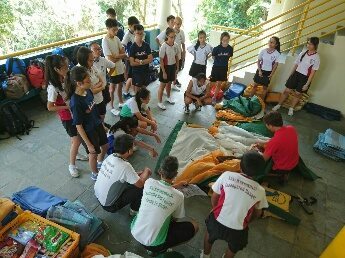 Learning how to pitch our tents (Credit: Kranji Secondary School Facebook)
The second day was when things got tougher. Four watches (including my own) headed out on a trekking expedition and our goal was to trek from one end of Pulau Ubin to the other within five hours! Luckily I had great watch mates who were patient with each other and we were able to solve many of the challenges thrown at us. At night, our instructor addressed the problems we encountered during the trek and gave us pointers on how to overcome them. This made me realise that team work is very important and we should look out for each other more. We camped out on a grassy field at night and although it was something out of our comfort zone, we fell asleep quickly due to the eventful day we had.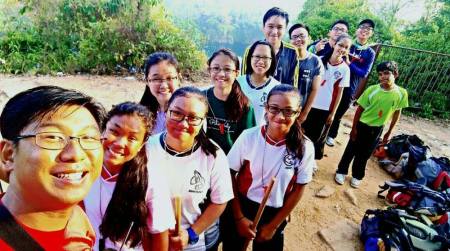 Some participants from different watches during their trek through Ubin.
The third day came and my watch was hyped up and ready to return to Camp 1. After a challenging trek against time, we managed to arrive at our destination on time. We wrapped up our expedition by learning that OBS not only stands for Outward Bound Singapore but also Others Before Self. This led to our next activity where my watch had to climb the Inverse Tower. The Inverse Tower includes a set of challenging obstacles within the climb and the only way to overcome and reach to the top was to work together with our climb buddy. After looking at how challenging the tower was, I was filled with both uncertainty and anxiety. That was not the only thing that made me anxious. I was also informed that my climb buddy was Minister Grace Fu! The climb was definitely challenging and physically demanding but Minister Grace Fu and I communicated well throughout the climb and we worked hand-in-hand to solve each hurdle along the way. Full of determination to reach the top, we helped each other out and eventually conquered the exhausting challenge.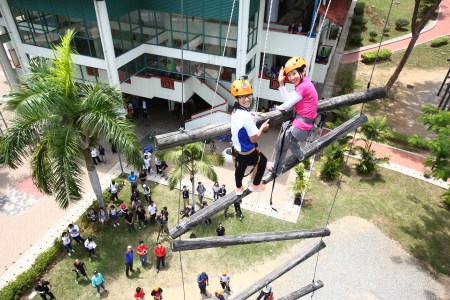 Minister Grace Fu and I at the top of the Inverse Tower Challenge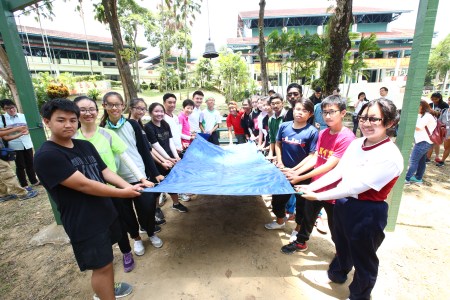 Other activities included the trust dive where we have to fully rely on our team mates to catch us.
Of course, we wouldn't have been able to complete it without the encouragement of the instructors and my friends. Their encouragement motivated and pushed us to complete the climb. At that point I finally understood why resilience is such an important value to possess. We all have so much potential and without resilience, we wouldn't know how much we can achieve. Singapore wouldn't be where it is without resilience! This climb also taught me what it meant to be pushed out of my limits, what it meant to put Others Before Self, and how encouragement from others can be a powerful tool in life.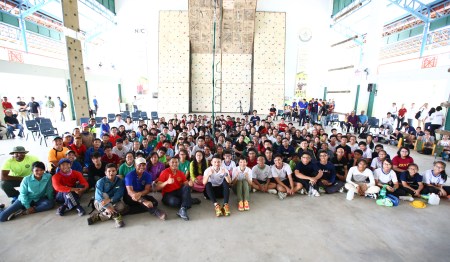 Our group photo with Minister Grace Fu and Parliamentary Secretary Baey Yam Keng
Overall, OBS has definitely changed my life for the better and I think my friends would also agree. I've made many friends during this journey, especially schoolmates that I've previously never interacted before. This was probably because of the common experiencesthat we shared during our OBS course that gave us common topics to share and talk about. I certainly hope that everyone gets the chance to experience OBS too!
~ Written by Lisa Giam, Sec 3 student from Kranji Secondary School.
If you'd like to find out more about our OBS programmes, join us on 30th April 2016 for our OBS Open House! You can register your interest here.
Otherwise, follow us on OBS Facebook or NYC Facebook to keep updated on our upcoming events!