Date Published : 05 September 2016
OBS LSA - Taking up a challenge by choice
~ By Angelique, OBS Leadership and Service Award (LSA) 2016 recipient
Would a person with a fear of heights ever choose to take up an outdoor adventure programme voluntarily?
You would think not…but I did! I took a leap of faith and embarked on the internationally-renowned 21-day OBS Classic Challenge Course, to step out of my comfort zone and rediscover myself.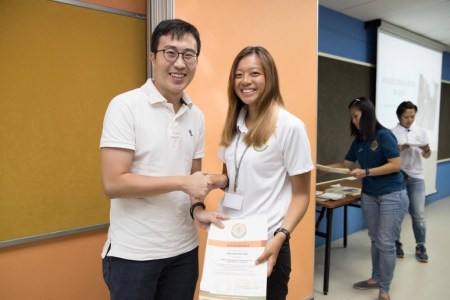 Angelique receiving a certificate of completion of the 21-day Classic Challenge Course.
I learnt a lot throughout the 21 days – be it skills, personal discovery, and people psychology. Initially, I was afraid that I wouldn't be as physically capable compared to the rest and that I wouldn't have the courage to complete the high elements (including the daily jetty jumps). However, the encouragement I received from my instructor Nadiah and my watchmates have in turn helped build courage to face my fear of heights and of falling.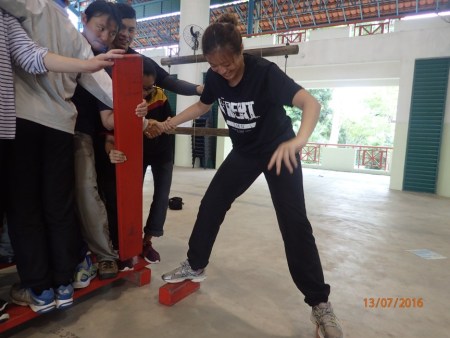 Angelique while playing some team-building games.
MOST MEMORABLE EXPERIENCE – FACING THE STORM WHILE KAYAKING
One of the most memorable experiences I had during the 21-day journey was facing the storm while kayaking during our final expedition. On our way to Pulau Hantu from St John's Island, a storm hit us real hard. It was nerve-wrecking, especially when we had just decided the day before to swap kayaking partners between the different watches. I was paired up with Lehui and being the only two-girl kayak, I was afraid that we wouldn't be able to fight the strong winds and currents.
Kayaking across the islands of Singapore.
I was feeling extremely anxious and I used all my strength to paddle forward. We turned and drifted back many times, and there were moments when I felt like giving up. But that was when I remembered that "smooth seas never made a skilled sailor", and that spurred me to push on. Thankfully, Lehui and I made it to the main boat safely without capsizing!
This course pushed me beyond my limits and out of my comfort zone, helping me to grow physically and mentally stronger. I'm thankful for this opportunity, and I would do it again with this amazing family in a heartbeat. It has definitely not been an easy journey, but I'm glad we roughed it out together! The good and bad times we shared may have passed, but they'll live in our memories forever.
Moving Forward – Preparing for the Community Service Project
I'm excited for the upcoming service learning project that we're required to do as recipients of the Leadership and Service Award, and I hope that it'll be a successful one! My watch has decided to focus on the migrant worker community – the very people who've helped build Singapore (literally), but also one of the more unappreciated groups in society. Through our project, we hope to show our appreciation to these migrant workers and make their day a little brighter!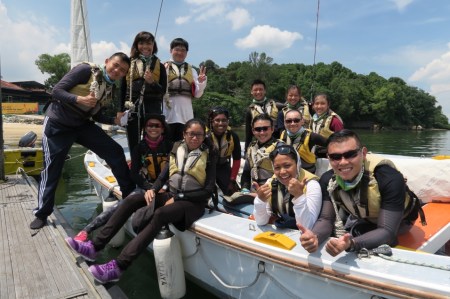 Angelique (last row, second from right) together with her watchmates and instructor.
There's a quote I'd like to share- a quote which has stuck with me through the 21 days and something I find most apt after having grown so much from this course.
"There is more in us than we know, if we can be made to see it; perhaps for the rest of our lives, we will be unwilling to settle for less." – Kurt Hahn
23 people from different walks of life coming together for 21 days may have been an insurmountable task – but we did it! Even though the 21-day Classic Challenge Course has come to an end, our Outward Bound Journey has only just begun. Indeed, for the rest of our lives we'll be unwilling to settle for less; our lives will never ever be the same again.
~
If you'd like to experience what Angelique did, apply for the Leadership and Service Award now! It's going to be an amazing life-changing journey!