Date Published : 20 June 2017
PIAH 2017: Strength in Numbers
Nature has always played a huge role in my life. Be it buffering us from the worst of tropical storms, or enveloping us with beautiful surroundings, I've always felt a connection with and thankfulness for Mother Nature. Having received so much, I just wanted to give back.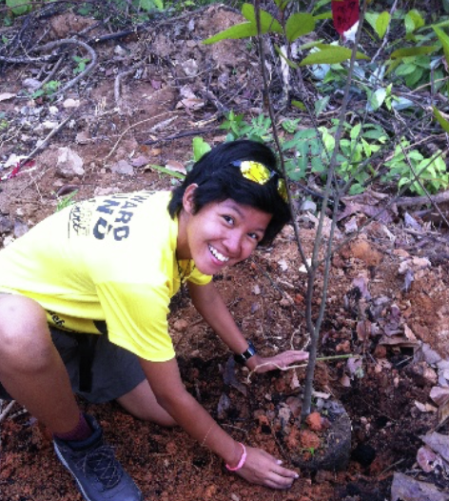 When I heard about Project-IsLand-A-Hand (or PIAH, as its more affectionately known), I jumped at the chance! What made it even better was that my friend was part of the organising team as part of his Leadership and Service Award (LSA). As an LSA recipient myself, I know how wonderful it is to have friends supporting an initiative you've spent days and months planning.
All Walks of Life
When the day finally came, we had a record showing of over five hundred participants! It was exciting to have people from all walks of life participate – everyone from ex-OBS staff, OBS alumni, friends from Rainbow Centre, and new faces wide-eyed at their first time being on this part of the island.
Although some were slightly bleary-eyed at being up so early on a Saturday morning, they didn't seem to mind it much! After all, we got the opportunity to explore and trek across some of Ubin's secret, hidden nature trails.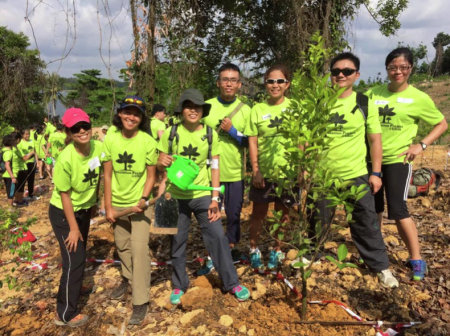 Stuff of a Dystopian World – An Old, Washed Up TV Set
We were split into different groups: reforestation, coastal clean-up, weeding and trail clean-up. I was attached to a group of students from Rainbow Centre (RC). We were in charge of the coastal clean-up at Hill 31 Beach, near the Outward Bound campsite. Bits of plastic, pieces of rope, fragments of an old fishing net, parts of a worn out tire; you name it, we picked it. One of our most interesting 'catch of the day', was an old TV set. It was massive and took a few students to carry the heavy goggle box away.
'Who would dump such a thing into the sea? Why?' I remembered thinking to myself angrily. But silent ministrations would have to wait, I couldn't afford to take my attention off the RC students.
Working hand-in-hand with RC students was a different experience for me. They had a diverse range of developmental needs, both physical and mental. We had to pay attention to any sharp objects lying around and assist them with equipment such as cutters used to cut trash off the branches. Tasks that were easy for us did not come to daily for them. Nonetheless, it was heart-warming to see how they did not let their limitations get in the way of their desire to contribute. Their resilience was truly inspiring and I was glad to have been able to share this experience with them.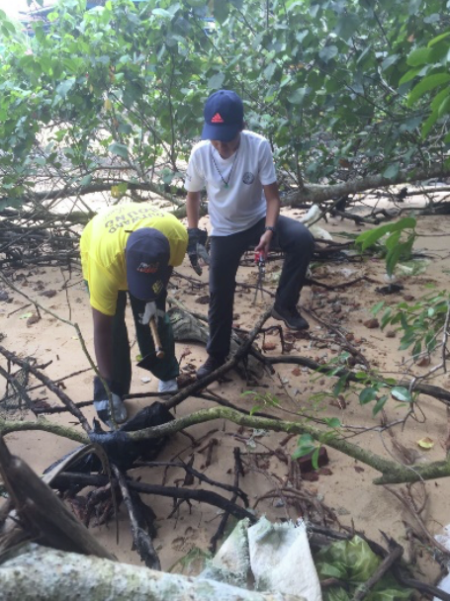 The power of teamwork
In just a few hours, we collected a total of almost two tonnes worth of trash. Not bad for a Saturday morning, if I may say so myself!
I was glad to see how awareness of PIAH as an environmental conservation movement has grown over the years and attracted many more youths to participate. Though our impact as individuals may be small, collectively, we made a significant difference in just a matter of hours.
If you love nature and want to make a difference in the world around you, I can't recommend PIAH enough. The world may be your oyster, but never forget to bloom where you're planted too!
Want to keep updated on OBS events? Follow us on Facebook or Instagram!
Author: Fi'la, OBS Alumni, PIAH 2017 Participant