Date Published : 09 October 2015
5 Keys to the Spirit of Adventure
Speaking of cool jobs, what can be cooler than a professional explorer? Meet Rob Lilwall, an ex-geography teacher who decided to take on the world and make his largest cycling expedition that captured the world's attention.
Rob in his Siberian Expedition (Source: alastairhumphreys.com)
In a recent sharing at the Singapore Institute of Management (SIM), Rob inspired many youths to be resilient and pursue their dreams and careers with his story:
Beginning his journey in Siberia, Rob travelled through places like Japan, Papua New Guinea, India and even the Middle East. The journey was not an easy one, but he still managed to complete his expedition after three years. "It was the spirit of adventure that got me through", he said.
Rob's Siberian Expedition mapped out (Source: 360extremes.com)
Rob shared that having a spirit of adventure in every aspect of our lives would help us face challenges resiliently. How do we embrace the spirit of adventure in our lives then? Here are 5 ways to do so:
1. EMBRACING CHANGE
Having the Spirit of Adventure also means to embrace and accept the changes and challenges that come our way. Rob shared that we need to realise there will often be unexpected obstacles and setbacks on the road we travel, and it is for us to muster creativity and improvise to move on.
Rob in his Siberian Expedition, river crossing on ice (Source: loadedtouringbikes.com)
It is important to keep a sense of fun even if things are difficult.
Facing difficulties and even warnings about possible death in the start of his journey due to the cold weather and wild animals in Siberia, Rob decided to use humour to get him through. He switched his perspective into one that was fun and that gave him added motivation.
2. IMPORTANCE OF GOAL-SETTING
Goal-setting isn't just as simple as setting one goal. Rob revealed the secret of splitting goals into three: short-term, mid-term and long-term goals. This would actually make your tasks more achievable.
One example of how Rob did so was midway during his journey in Siberia. Realising that he only had a month left to travel out of Russia and was barely halfway through, both he and his buddy decided to make short-term goals of cycling 65 miles every day to ensure they would be able to exit Russia on time.
Rob sharing his experience with youths at the Singapore Institute of Management
3. PRACTICING SELF-DISCIPLINE
It's the little decisions in life that make a very big difference.
Rob explained that self-discipline should start with small tasks. For example, in order to get out of Russia, he had to ensure that he cycled 65 miles every day despite what the conditions were.
4. PRACTICING SELF-CARE
Sharing the quote from Bill Clinton, "Every important mistake I've made in my life, I've made because I was too tired", Rob emphasised on the need of rest. Mid-way through his expedition, Rob decided to take a pit stop in Hong Kong for a few months. This gave him the capacity to make better judgement for the next leg of his journey.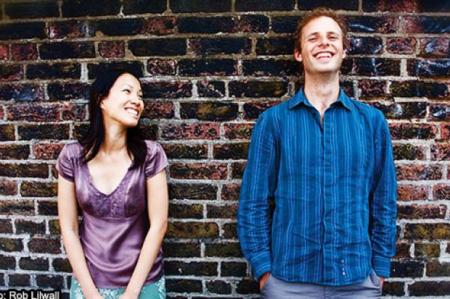 Rob met his wife during his pit stop at Hong Kong (Source: asiaone.com)
5. REMEMBER, WE DON'T HAVE TO MAKE IT ON OUR OWN
The world is actually full of kindness
Rob admitted that he wouldn't have made it through his adventures without the help and advice of the many good people he befriended along the way. For instance, it was through networking that he managed to catch an almost impossible boat ride from Papua New Guinea to Australia despite the monsoon season.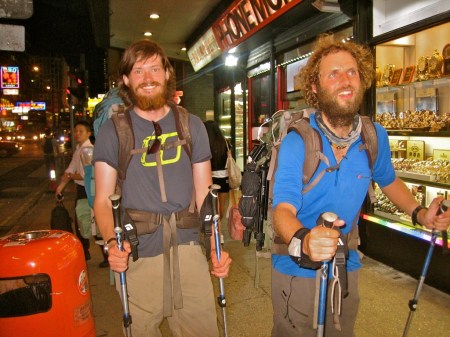 Rob and his buddy Al' (Source: alastairhumphreys.com)
Rob shared that life does not have to be individualistic, and we would in fact progress further if we learn to give and receive. So remember, we don't have to make it out on our own.
LIFE GOES ON
Rob in his Siberian Expedition, at the Tibetan Plateau (Source: loadedtouringbikes.com)
Life is a series of challenges. It doesn't just end at one.
Even after going through one challenge, we should still expect that there will be more to come. Rob encourages youths to treat every frightening and tough challenge like an adventure and embrace it. This, he felt, was the most important key to life.
[The Spirit of Adventure] is a good attitude to have in life.
Author: Staff Writer