Date Published : 24 April 2018
ASEAN-Korea Future-Oriented Youth Exchange Programme
Over the Winter semester break, I had the privilege of representing Singapore at the 19th ASEAN-Korea Future-Oriented Youth Exchange Programme: ASEAN-Korea Youth Square in South Korea. This year's programme was especially significant and meaningful as 2017 marked the 50th anniversary of ASEAN, and it was also the year of ASEAN-Korea Cultural Exchange.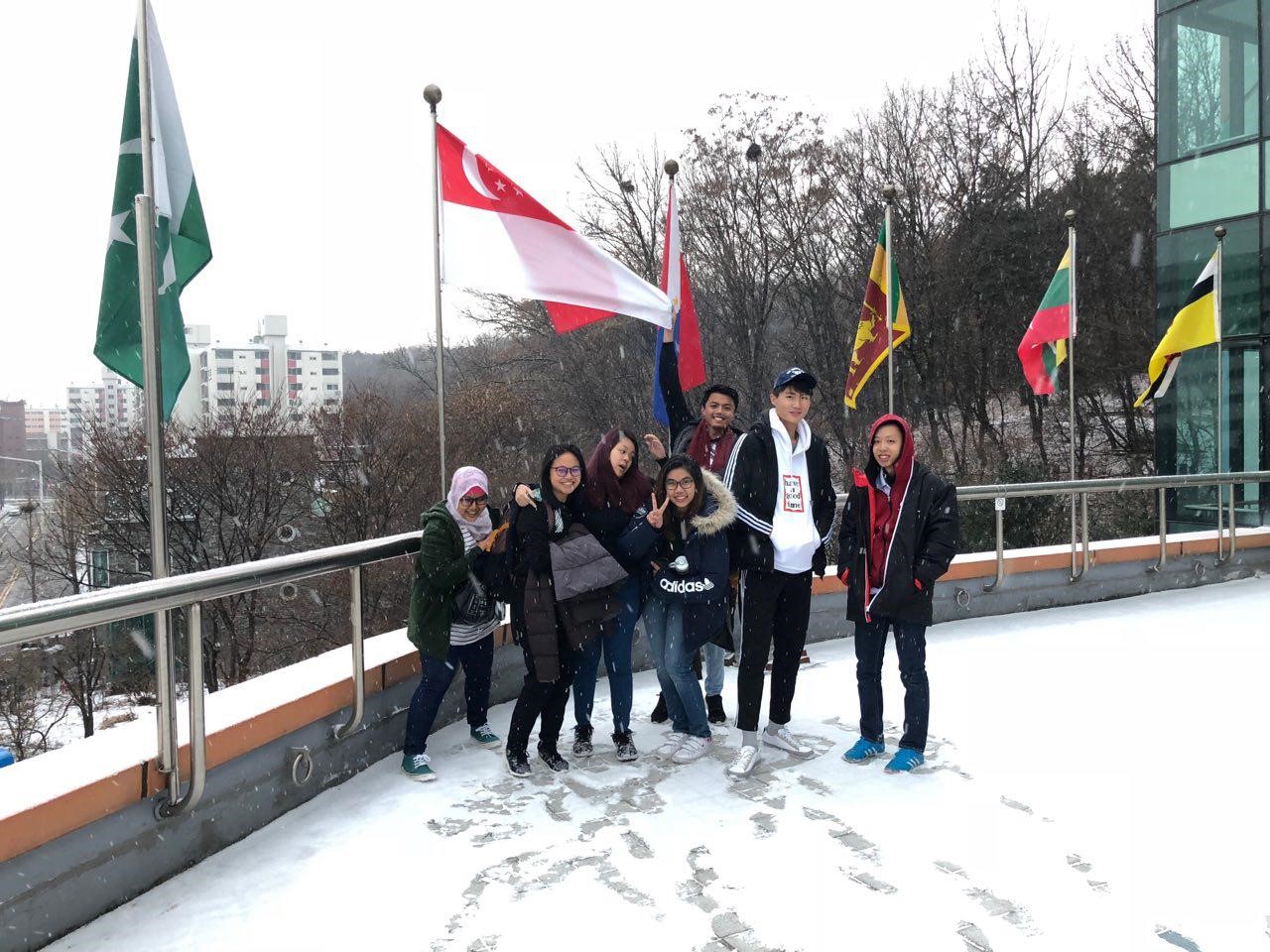 The Singapore delegation at the International Youth Centre, Seoul.
This year, the youth exchange was held in Seoul and Gangwon Province over the course of 7 days from 11-18 January with the selected theme – "2017, Year of ASEAN-Korea Cultural Exchange with Youth!". Together with 90 other participants from the 10 ASEAN countries and South Korea, I had the opportunity to experience the different cultural and youth activities in South Korea as well as engage in an exchange of cultural activities found in the other ASEAN countries. Part of the programme also provided us with the opportunity to experience winter sports and we got to visit Pyeongchang, the host city of the 2018 Winter Olympic Games, in Gangwon Province. It was interesting to see a bunch of Singaporeans getting excited repeatedly over seeing snow!
Through the exchange, I got to experience first-hand how diverse yet similar our Asian cultures were. We had many overlapping traditional games with countries that do not share historical background with us. One activity in the programme was to set up cultural booths festival where each country had a booth and everyone visited the booths to learn more about the different cultures. It took all of us by surprise to find out that South Korea shares two of the same traditional games with us. While we have Chapteh, South Korea has Jegi-Chagi. While we have Five Stones, they have Gonggi. We actually learnt of this during the booth festival where we spotted other delegates playing the same traditional games at the booths! On the other hand, despite being one Asia, all our cultures and how we live our lives are strikingly different - from the food we eat, our education system, the youth activities and programmes each country offers and even down to living conditions. Through the youth exchange, I was able to befriend participants from other Asian countries such as Laos and Cambodia, which prior to the exchange I had never imagined I would have the honour of meeting. It was an eye-opener to witness first-hand how diverse Asia actually is through interacting with the other participants.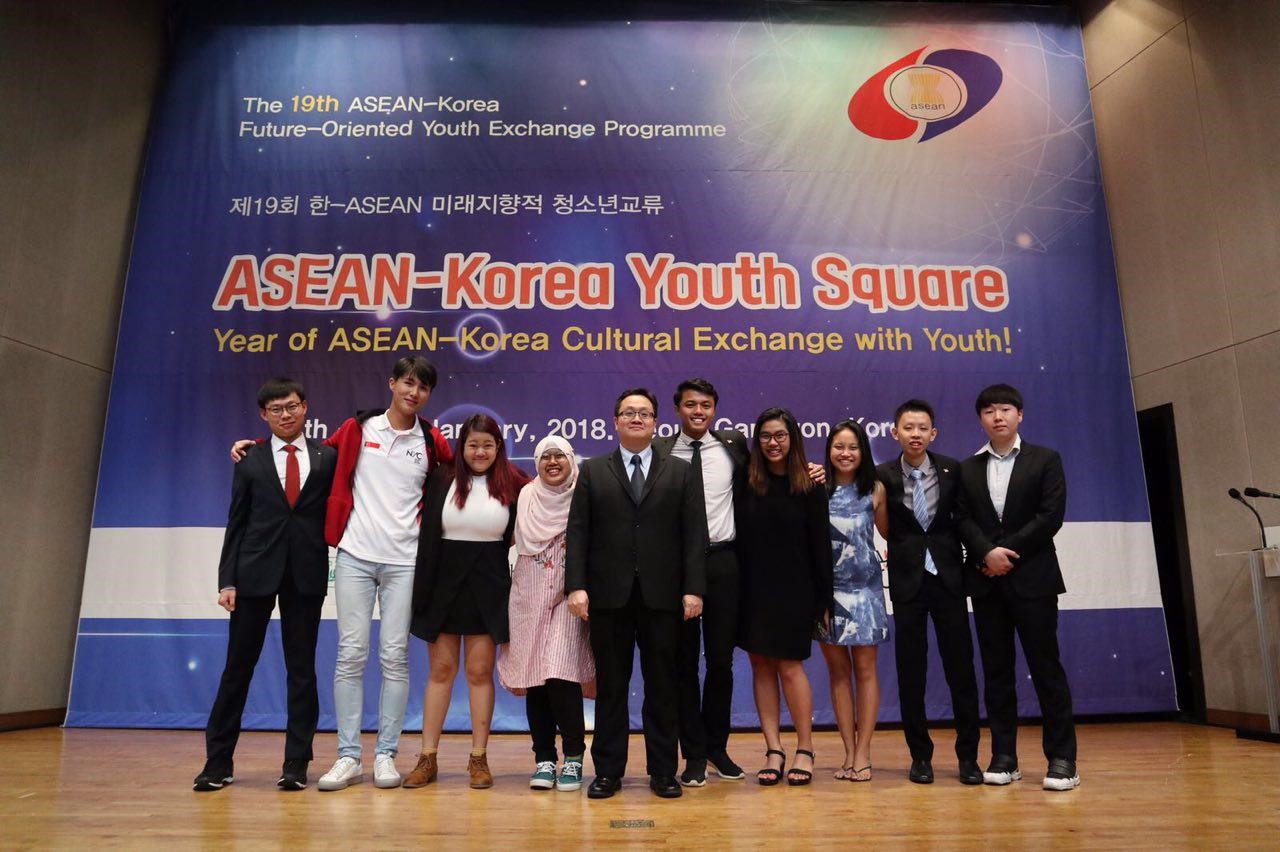 Singapore delegation with Mr Craig Lim – Deputy Chief of Mission and Counsellor, Embassy of the Republic of Singapore in Seoul.
My greatest takeaway from the youth exchange is to always broaden your horizons and seize the opportunities that are presented to you. I once came across a quote "the more you learn about the world around you, the more you learn about yourself". This quote sums up my youth exchange experience in South Korea. Having given the opportunity to represent Singapore in this cultural exchange has forced me to reflect on how I live my life in Singapore. It has opened my eyes to how life in Singapore is vastly different from life in our neighbouring countries. It was through learning about the cultures of the other participants that I could take a step back to reflect on how I have taken many things in Singapore for granted. I believe every single one of the Singapore delegates not only learnt about the cultures and youth programmes of other countries, but also forged a deeper understanding of Singapore. The whole experience allowed me to appreciate my own culture and traditions as well as understand the role of youth in Singapore more, which helped me when I had to share about Singapore with the other participants.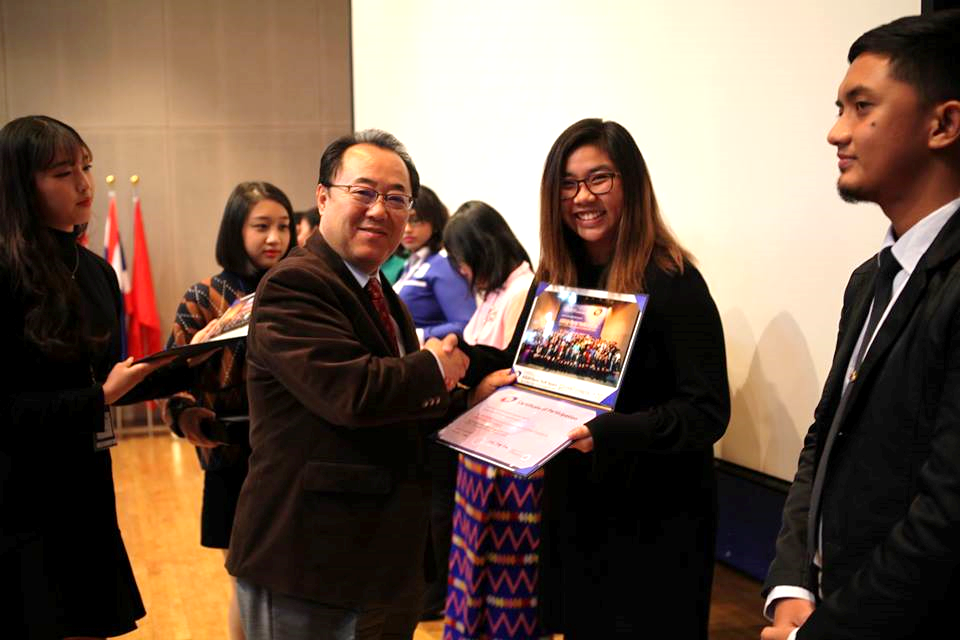 Dian Nadia with Mr. Cho Dal-Hyun - Secretary General of the National Council of Youth Organizations, Korea (NCYOK).
The exchange programme was definitely the highlight of my term break and I am very grateful for the precious opportunity. I, for one, was never one to voluntarily throw myself into any situation that would take me out of my comfort zone but I have learnt that moments of happiness in life often take us by surprise. I have absolutely no regret signing up and left the youth exchange with a broader mind and a full heart. I strongly encourage everyone to seize the opportunity to participate in this programme in the future. I had an amazing time in Korea and I am positive that going for the camp in the future would undoubtedly be an experience of a lifetime for you too. I would personally recommend youths who are interested in gaining such a meaningful experience to check out the variety of cultural exchange programmes and events that the National Youth Council offers.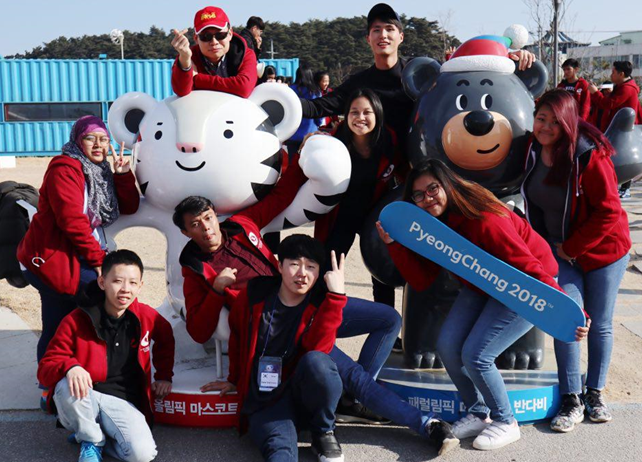 Singapore delegation with Korean buddies at the PyeongChang 2018 stadium and experience centre.
Author: Dian Nadia Binte Muhamad Tahir