Date Published : 04 January 2019
Singapore Youth Award 2018 Recipient Amanda Chong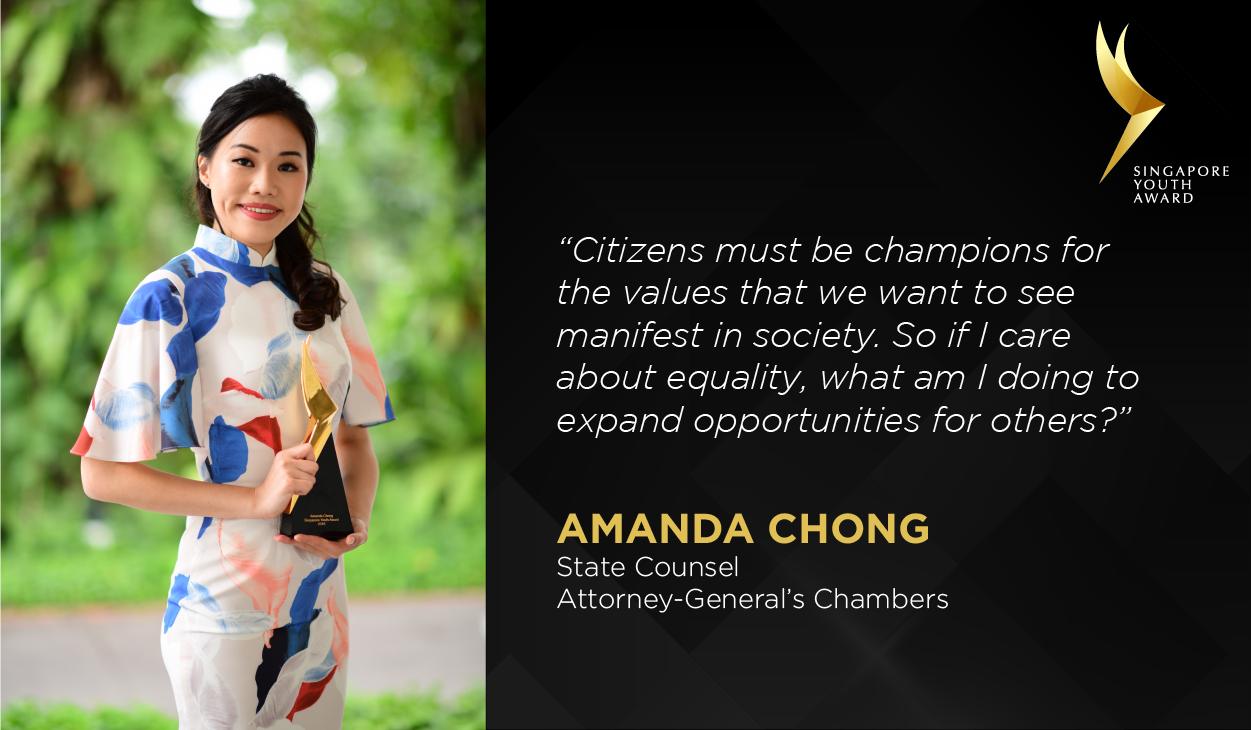 "If we care about advancing equality, the privileged must be invested in expanding opportunities for low-income communities and committed to walking alongside them by giving our time, resources and networks."
The multi-faceted Amanda Chong is a lawyer, poet and advocate for underprivileged groups in society. She is recognised as one of Singapore's leading writers. She was shortlisted for the Singapore Literature Prize in 2018 and her poetry is studied in schools worldwide as part of the Cambridge International GCSE syllabus. Amanda uses the power of words as a voice for women's rights, bringing the perspectives of women into public consciousness through her poetry.
Amanda's commitment to driving positive change in society led her to co-found ReadAble, a non-profit organisation. ReadAble conducts weekly English literacy classes for children and migrant women from a low-income neighbourhood in Chinatown, with the hope of increasing social mobility. From its roots in a one-room flat, ReadAble has grown to hold lessons in classrooms in the Resident's Committee Centre where it uses elements of drama, movement and play to draw out a love for reading.
Amanda hopes to empower children with life skills and inspire them to achieve their dreams. With over 60 children from ages 2-15 under their care, ReadAble matches each child with a trained volunteer in weekly classes tailored to each child's learning style. ReadAble volunteers also conduct one-on-one mentorships with families and connect them with community resources. Through ReadAble, Amanda aspires to help these children step out of the poverty cycle by improving their literacy.
Outside of ReadAble, Amanda advocates for social equality in other ways. Through her public-speaking and research, she encourages policymakers to think of social change in terms of building the capacity of the poor, rather than prescribing values to them – breaking down the stereotype that the poor are burdens to the state. Amanda also teaches poetry to domestic workers, in the hope that the narratives of the marginalised may be brought into the centre.
For her outstanding contributions to society as an advocate for social justice and equality through her work in ReadAble and as a writer, Amanda Chong is conferred the Singapore Youth Award 2018.