Date Published : 04 January 2019
Singapore Youth Award 2018 Recipient Dr Hamid Razak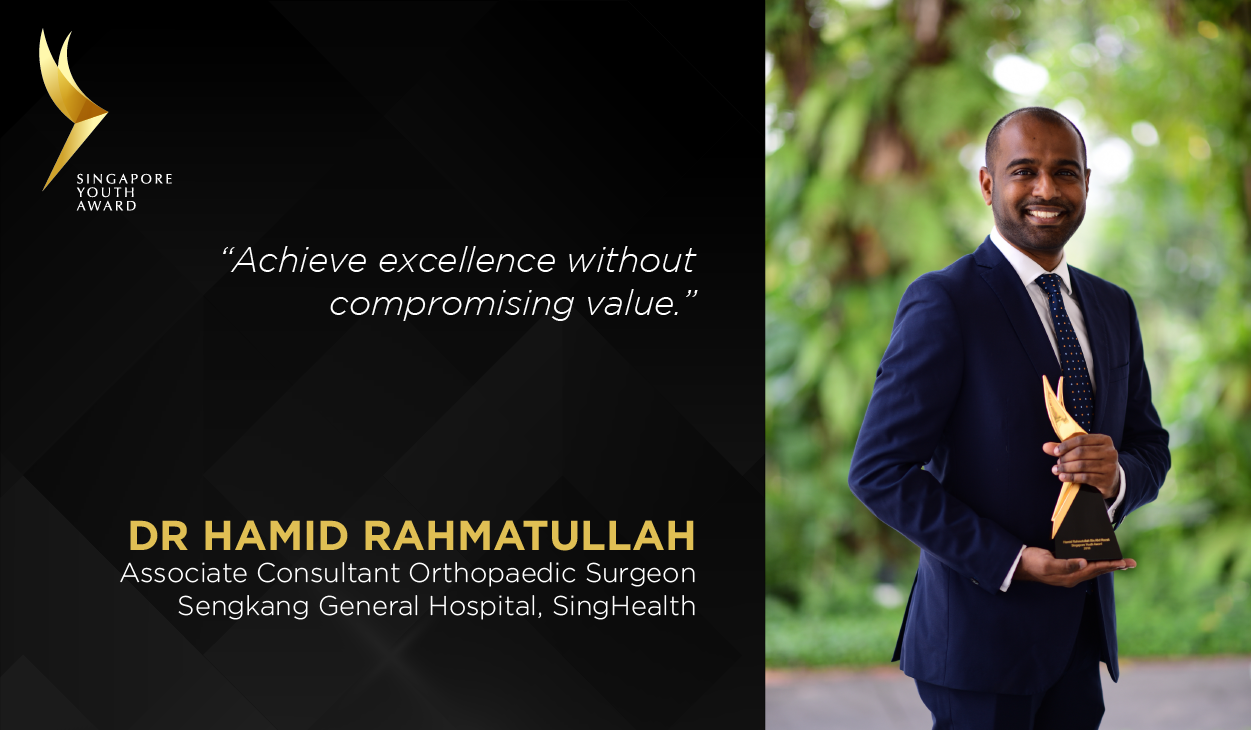 "I hope to achieve my fullest potential without compromising my values. And that too not for myself but so that I may enrich the lives of others."
At only 31 years old, Dr Hamid Razak was selected to be a leader amongst his peers as a Chief Resident in Orthopaedic Surgery in the SingHealth Residency Program. Despite his heavy clinical workload, he takes a keen interest in both clinical as well as translational research and has published close to 60 scientific articles in peer-reviewed journals.
Coming from a humble background, Dr Hamid understands the importance of hard work and supporting the less fortunate. This has been a driving force in his life - to give back to the community. He has been serving in the Active Aging Committee, where he collaborates with community partners to craft programmes that promote and maintain the health and wellness of the elderly. He also serves as a volunteer doctor with HealthServe, a non-governmental organisation providing primary care and specialist medical consults at a lower cost to migrant workers.
Dr Hamid recognises and values that timely guidance can make a significant and positive impact on young people's lives. He is a founding member of the Indian Muslim Professionals (IM.PROF), a group which was set up by like-minded Indian Muslim youth, and aspires to be a relevant organisation for all youths especially in the Indian Muslim community.
Through the organisation, Dr Hamid aspires to attract future leaders into the community, and together, undertake projects that will benefit the larger community. IM.PROF also organises talks in the areas of entrepreneurship and career guidance, where Dr Hamid shares his experiences with youths. Through IM.PROF, Dr Hamid aims to set up a mentoring network that links youths in the Indian Muslim community with mentors who can lead and motivate them to greater heights in their fields of interest.
For his excellence in the field of medicine and his dedication to serving the community, Dr Hamid Razak is conferred the Singapore Youth Award 2018.