Date Published : 04 January 2019
Singapore Youth Award 2018 Recipient Inch Chua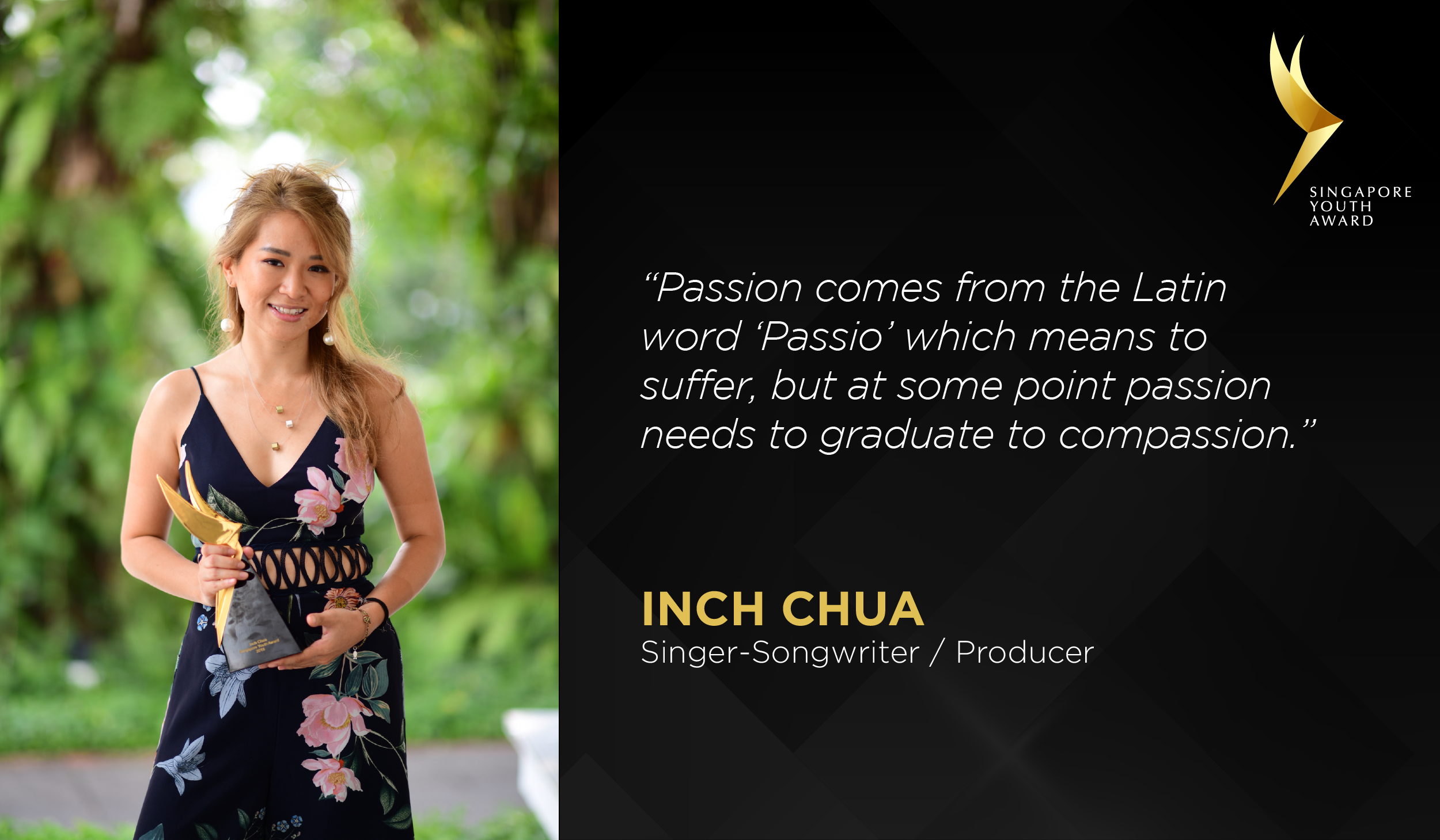 "For me, it's absolutely important to live a purpose-driven life. Purpose, I believe, is the key to navigating the complex, volatile, ambiguous world we face today."
Inch Chua is an instantly recognisable name in Singapore's English contemporary music scene. The passionate singer-songwriter has displayed unflinching determination throughout her career – even moving to the US to pursue her passion when she was just 20 years old. Outside of performing, Inch is an advocate for local music – promoting music that's made in Singapore to younger Singaporeans and giving back to the community through the arts.
As a performer, Inch has performed at major events both locally and overseas. These include events like the Singapore International Festival of the Arts, Singapore F1 Grand Prix, Youth Olympic Games, Beijing MIDI Music Festival, TEDxWomen, Canadian Music Week and many others.
What makes Inch truly stand out from her peers is her passion for using music to touch the lives of people, communities and the environment around her.
Inch co-founded Invasion Singapore to showcase local music to youths, building their interest in Singapore music (and musicians) from a young age. She is also an ambassador for the Industrial & Services Co-Operative Society Ltd (ISCOS) and is part of the Community Action for the Rehabilitation of Ex-Offenders (CARE) Network. In 2016, Inch was a judge for the Yellow Ribbon Song Writing Competition, where she mentors 60 inmates on the art of songwriting.
She was involved in the movement to preserve and appreciate Pulau Ubin with the release of her album "Letters to Ubin" to spread the importance of conserving nature and local wildlife.
For her dedication in pursuing her passion and her commitment in giving back to the community on multiple fronts, Inch Chua is conferred the Singapore Youth Award 2018.