Date Published : 17 November 2017
Living Breathing Books Human Library
By: Kennice Foo
Volunteer for the Youth Corps Media Team
The Library was noisy – filled with chatter, the occasional laughter and bright smiles.
This Library is not a conventional one; there is no librarian and no silence is allowed. There are no shelves, or paper books. Only people, their conversations and stories to share.
This is the Human Library.
Originated from Copenhagen, Denmark, Human Library is a movement that strives to change perceptions and break stereotypes. Human books are 'on loan' to readers, and a conducive environment is built for readers to interact and converse with the books.
"Human Library is really special because it's something to reduce stigmatisation and misconceptions," says Fika Dwirishcka, 19, the Youth Corps volunteer who is the Overall-in-Charge of the event. "It's a golden opportunity for everyone."
There were 15 different books, including ex-convicts, a lady with Dissociative Identity Disorder (DID) and Persons with Disabilities (PwD). All book covers were displayed to give the readers a synopsis of each unique story.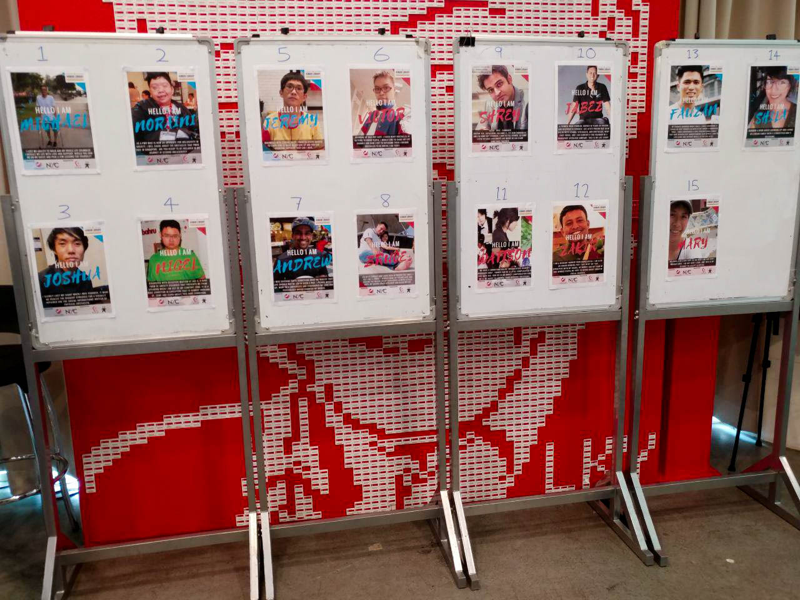 Don't judge a book by its cover: All book covers are on display for all readers to see.
Nigel was one book I read. He was diagnosed with a form of anxiety disorder when he was nine after going through a traumatic experience in school. According to Nigel, Selective Mutism is a rare condition that affects 7 out of 1,000 children in Singapore.
Having recently written a book, Silence is not Golden, Nigel, 23, hoped to raise awareness on Selective Mutism and inspire others with the same condition.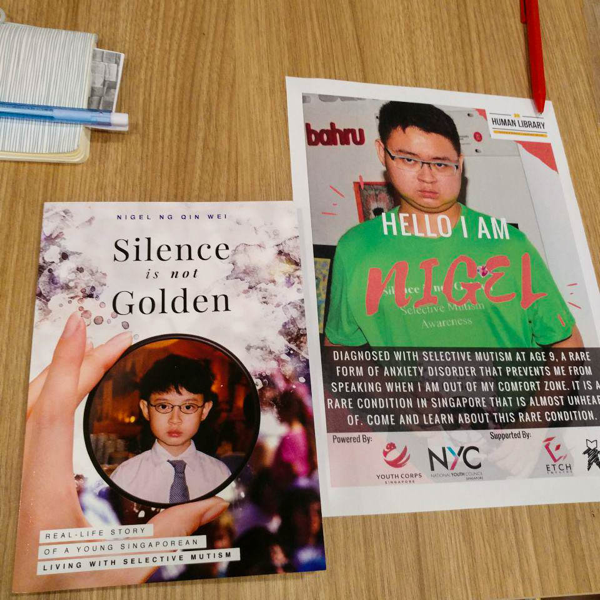 Nigel's first book, "Silence is Not Golden" is a twist to the popular saying. It was launched in October 2016 during the World's Selective Mutism Awareness Month. The book is available for sale at Kinokuniya.
Even though his voice was small, it spoke volumes on what he dreams of achieving . "I want to play the drums, to have an art exhibition to showcase my drawings to the public and be a motivational speaker as well."
"He said he's giving himself another 10 years to be a motivational speaker," His mother, Ms Janet Wong shared at the event.
For someone who has a fear of speaking in social settings, it sure is a bold dream. This goes to show how love and support from the people around you can impact you and your choices.
Love changed Bruce's future too.
A drug peddler for 30 years, Bruce was recently released from prison in March 2016, after serving a 5 years and 9 months' sentence for drug consumption. He had since served 20 years in prison.
"I have been going in and out of prison because I forget. After being released, amidst the lights and glitters and many distractions of the world, I forget about the pain and suffering I had to go through while I was in prison. I was just like a man looking in the mirror, and as soon as I walked away, I forgot what I looked like," said Bruce, with a steely expression.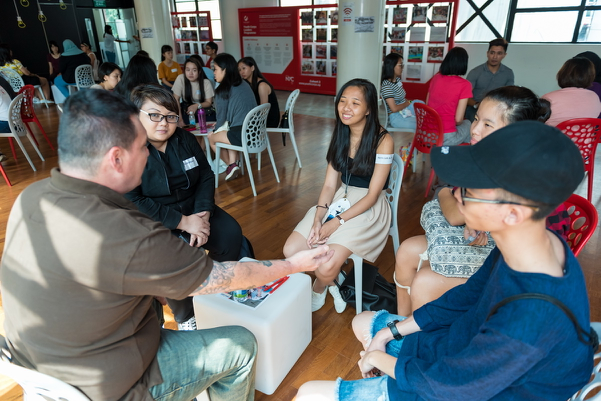 Bruce (left) sharing his story
This all changed in April 2013, on the day of his daughter's birthday. It was the fourth time he was in prison. "My wife brought my daughter to visit me on her birthday. We were all singing and clapping and at the end of the birthday song, she looked at me and said, 'Dada, carry.' My heart absolutely broke. She looked at me again and said, 'Dada, carry.' All I could do was look at her from across the table and shake my head."
That was the only prison visit he never got to finish because his daughter was crying so uncontrollably. It was the worst day of his entire life – all his daughter wanted for her birthday was for Bruce to carry her, and yet he could not.
"I'll remember that day for the rest of my life and I'll carry the image of my daughter crying in my heart till the day I die. That's the image that'll serve as a grim reminder for what will happen again if I don't hold the line."
He believes that society should give ex-offenders a chance, only if they are willing to prove themselves. "Nothing is free in this world. As an ex-offender, I think I can validate this statement. People don't owe you a living. If I want a chance, I have to prove myself."
Bruce's story shows how temptations, love and willpower can bring different ups and downs in life. It shows the trials and tribulations of drug addiction. It inspires us to change and never forget our convictions.
Nur Ain, 25, a 'reader' at the Human Library, finds the concept unforgettable and interesting, but wishes to be able to read more books. She is already looking forward to the next session.
"We live in such a small country and have a lot of differences. The key is to come to a common ground, and communicate our differences and how to overcome it. This is how people are able to understand each other. The most important thing is to understand each other's struggles," Fika shared.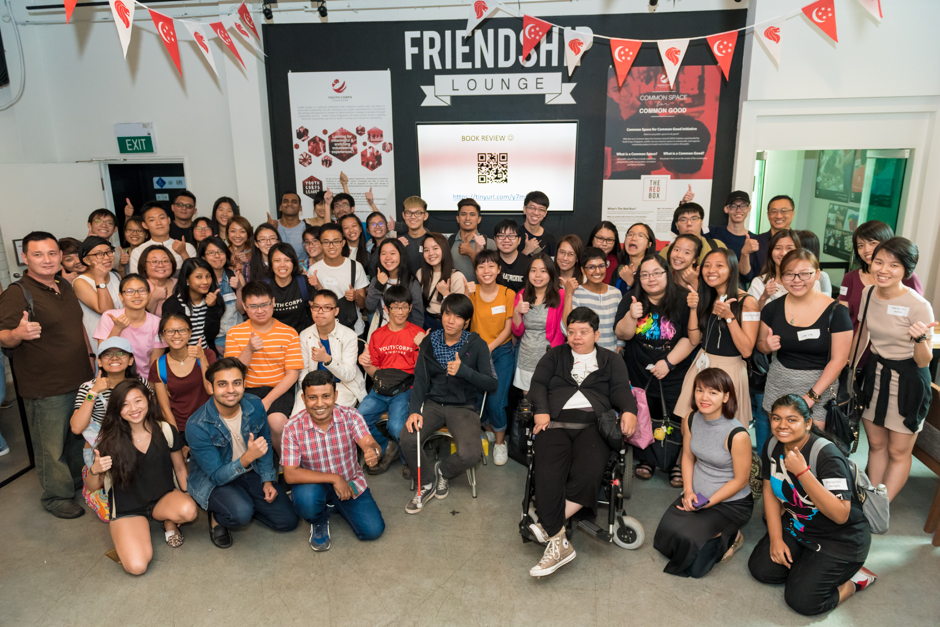 Group photo with books and readers
—
Want to be a 'reader' at the next Human Library? Stay tuned to www.youthcorps.sg.
Human Library is brought to you by Youth Corps Singapore, supported by Etch Empathy.