Youth and their employment concerns
Even amidst a pandemic, youths have demonstrated resilience in their careers and also reported more positive scores of career success and perceived employability in 2021 than in 2020.

But despite the changing circumstances, we also observed some longer staying employment preferences and concerns youths have that can help further the understanding of today's labour landscape.

One such persisting concern may be career uncertainty, and in response youths highlighted desire for greater availability and accessibility of opportunities to equip themselves with soft skills.

What else are youths prioritising, and how else can we help them?

Read to find out more.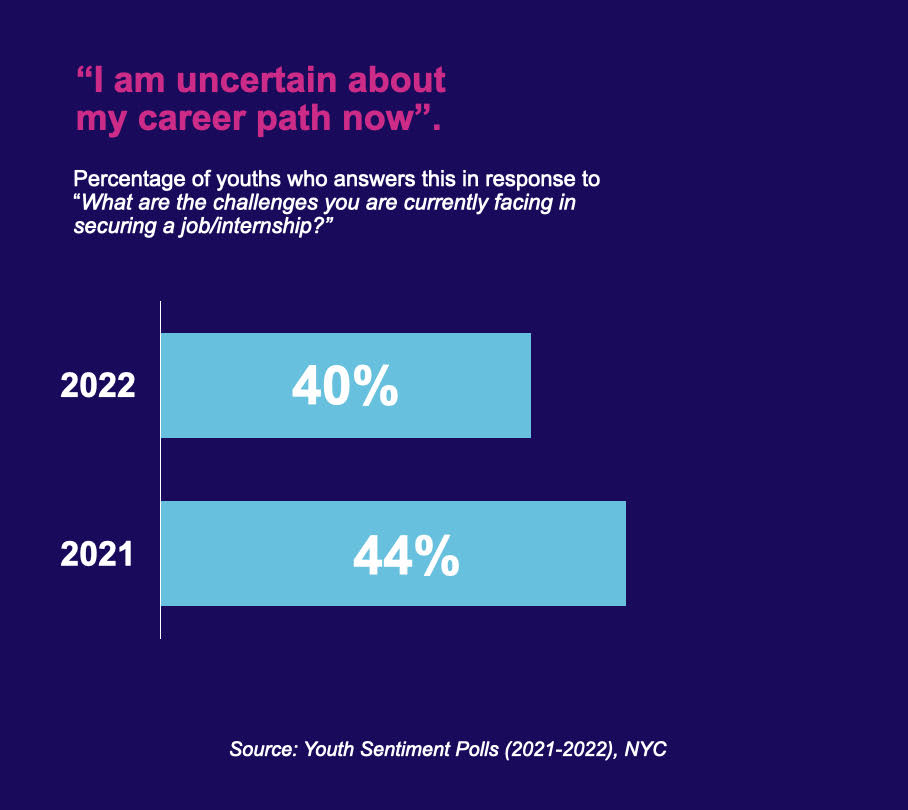 Youth Engagements In Partnership with Government Agencies
Our partnership with youths is what shapes the National Youth Council. We work with a myriad of partners, including government agencies, for young people to have a voice on national issues.

These issues could range from transport to environment & sustainability, and mental health wellbeing. As part of the on-going Forward Singapore (FSG) exercise launched by Deputy Prime Minister Lawrence Wong in 2022, youth engagements played a key role in raising issues which the Government and Youths need to work on together, so as to strengthen our social compact. This was done through a series of seven National Youth Dialogues. Watch the highlights from some of these FSG led National Youth Dialogues below.


Types of Youth Engagements
Beyond giving youth a space to address policy issues, we promote civic participation amongst youth. Singapore is a small country that is ethnically and religiously diverse, and differences can only be bridged with civic conversations. Differences shape us as individuals, but being able to agree to disagree respectfully, shapes us as a society.


The National Youth Dialogues is a series of seven dialogues organised in partnership between NYC and the Global Shapers Community (Singapore Hub) under the Forward Singapore exercise.

NYC has supported the Ministry of Finance in series of pre and post Budget engagements in past years. Find out more about our partnership for Budget 2023.


These sessions allow youths from NYC communities (Holler!, INSPIRIT, YCS etc) to engage with like-minded peers and share their views on issues that matter to them.





NYC works with youth associations and student unions and connect them with the Government to co-create policies that impact youth directly.